Jimmy's World Kitchen: Eat Your Fill In Wimbledon
---
Review: Jimmy's offers something for everyone

If you can't agree what you want to eat, but you know you want a lively dining atmosphere, then Jimmy's World Kitchen in Wimbledon will make everyone happy.
Recently re-opened after refurbishment, it offers more than 100 dishes from around the world - many of them cooked before your eyes.
We made sure we were hungry before our 'all you can eat' experience, and couldn't decide if we wanted a taste of India, Italy, Britain, Mexico, China, Japan, Thailand or the Deep South of America.

It's fair to say this restaurant (below), which is on The Broadway, has an emphasis on Indian and Asian food in its buffet counters. I started by going over to the Indian starter section and assembled my own small plate of spicey treats. There's probably no surprise in the choice on offer - bhaji, pakora, samosa, as well as a range of chutney and other side dishes.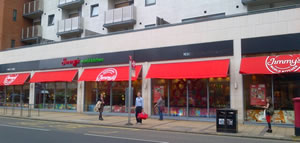 It was hard to resist the urge to gorge myself on the starters, but I was tempted by the noise and smell of the stir fry dishes being made close to our table.

I was given a choice of egg and rice noodles (I went for both - why not?), as well as freshly chopped vegetables, chicken, beef and/or prawns. Next came the decision about how hot I wanted the sauce. Having noted the spicey feel to some of the starters, I opted for 'mild'. My choices were handed to the chef and he stir fried it all up before my eyes (see above right). A few prawn crackers, some soy sauce and a couple of chopsticks and my own Chinese banquet was created.

My friend went for chicken tikka, steamed vegetables, rice and a naan bread - with the bread being cooked while she waited as well.
By now the popular restaurant was getting really lively. Later we noticed that the area on the right-hand side of the door was a little quieter, with smaller tables. The area on the left-hand side of the buffet counters was large enough to accommodate big parties, and groups of all ages were helping create a bustling atmosphere.

It was time for me to go back to the hot buffets for a third plateful and I managed to combine mushroom & chilli sauce, fish thai yellow curry and mixed vegetable curry. A fish curry is a rare-ish treat for me, and it was hot, without being too over-powering. The mushroom & chilli sauce was a bit on the spicey side, but I calmed it down with some yoghurt.
Other dishes available ranged from pizzas, burgers and burritos to sushi and stew. The dinner buffet price of £17.99 (Monday - Friday lunches are £10.99) included unlimited soft drinks. Any alcoholic drinks are bought at the bar, and the prices were very reasonable. A 175ml glass of house wine was £2.80, a bottle of Cobra was £2 and a coffee was £1.50.

Many of the desserts were almost nibble-size, which was a great idea as it enabled diners to finish their meal perfectly with a sweet treat which wouldn't over-fill them. My companion came back with a small plate of delicacies and said they were light and refreshing enough to round her evening off well.
I opted for the 'cooked before your eyes' experience again, and went for a freshly made pancake. The chef at this food station will also make you a waffle while you wait. I was relieved that it was a small-sized pancake, but accompanied it with drizzles of chocolate sauce and honey to make sure I left the busy restaurant without any room for more!
By Sue Choularton
Have you been to Jimmy's World Kitchen - what did you think? What's your top local restaurant/pub? Why not comment on our forum?
August 26, 2015