The new menu at The Alex is a smart choice
The Alexandra is a landmark Wimbledon pub and with the launch of a new menu last month, we went to see if matched expectations.
We certainly got the promised welcome in its smart Lounge Bar as the chatty barman told me about the upcoming celebrations for the 180th birthday of Young's beer.
But we were also here to try the food, and the menu had the traditional pub grub staples as well as more unusual offerings such as bacon and quails egg salad, and toad in the "whole" (both daily specials).
I opted for grilled salmon fillet, with new potatoes and summer vegetables with lemon oil and pickled radish (£9.95), from the main menu.
My companion, keen to test their promise that their veggie dishes are good enough for meat-eaters, opted for one of the specials - leek, Caerphilly and potato pie, with chargrilled courgettes and crusty bread (£8.95).
There's a range of starters available, including scotch egg (£3.60) and salmon & cod croquettes (£3.95). Their tempting bar snacks menu also listed bites from £2, such as pork pie, sausage roll and cheese straws.
It had obviously been a popular Sunday as several of their dishes were already sold out, but our choices were still available - albeit we were warned of a 20-minute wait as they'd had to cook a new batch of pies.
We sipped our beers as we waited - Young's London Gold (4%), very refreshing and like a stronger version of their standard Young's Bitter, and Battersea-brewed Sambrook's Wandle (3.8%), which has a distinctive, but moreish taste.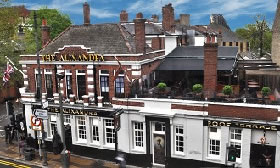 We don't think we actually waited the full 20 minutes for our dishes and they were certainly a feast for the eyes.
My salmon was a sizeable portion and it was sitting atop the new potatoes and pickled radish. I'd actually forgotten they were radishes and at first thought I was eating caramalised onion. But they were delicious and the potatoes were cooked in just the right amount of oil.
The salmon was perfectly done, and the plate was surrounded with the summer vegetables to complete the look as well as the taste.
The leek, Caerphilly and potato pie came with a lovely, flakey pastry lid and also looked a picture with the grilled courgettes and neatly-placed bread. It was definitely declared a tasty-enough dish to win over a meat-lover and our plates were both cleared.
Once we'd finished our main course, the busy Lounge Bar was slightly thinning out of diners and the music seemed to switch up a notch. We'd just got eough room to round off our meals with a dessert and another beer.
For our ales we went for another Sambrook's, the 4.5% Junction, which was nuttier and heavier tasting than the Wandle, and Young's Bitter (3.7%), known as 'Ordinary' to Young's regulars, and an easy-drinking pint to finish off the evening.
The Alex's desserts were all priced at £4.95 and I went for the peach and nectarine Eton Mess. This came in a Young's beer glass and was lovely and creamy, with just the right amount of fruit.
My companion picked the homemade lemon posset with fresh strawberries. This came in a large whisky tumbler and looked a treat, with a layer of strawberry juice above the lemon posset. The dessert had a tangy taste and was creamy enough to make it more filling than it looked.
The staff had been friendly and attentive, and asked if we wanted a coffee before we left. We decided not to, but had a quick look around the rest of the pub. It's been through both major and minor changes in recent years and has several bars to suit your mood, with food available in all.
The Sports Bar speaks for itself, there's also a Roof Terrace for those more balmy days and a 'Green Bar' which is a traditional pub room. There are different beers on offer in the bars (Wells Bombardier and Young's Special were also available during our visit) and the staff will get your choice of ale from any of the bars.
So The Alex in Wimbledon Hill Road really does seem to be a pub to fit all seasons and all styles. From our experience, which cost £42.60 including two pints each, you'll be sure of a good meal and a warm welcome whichever of their bars you visit.
Do you agree with our review? What's your top Wimbledon restaurant/pub? Why not comment on our forum?
Sue Choularton
September 12, 2011