Treated Like Kings At The Curry Royal
It seemed a good time of year to refresh the taste buds with something spicy - the period between Christmas and New Year can be a bit bland in every sense.
So we decided to awaken our appetites with a visit to one of Wimbledon's longest-establish Indian restaurants - the Curry Royal, which has been in Hartfield Road since 1969.
There's certainly no shortage of options on the menu to satisfy all tastes, with 95 numbered choices on offer - ranging from "connoisseur" dishes, which seemed less traditional, to familiar curries and eight main course seafood dishes.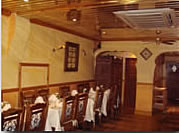 Although the restaurant (left) was to get almost full during our visit, we weren't rushed to make our selection and started by sharing three poppadoms.
The starters were particularly intruiguing and I went for one of the "connoisseur" offerings - Sweet Chilli Ponner (just £2.95). This was chunks of a type of chewy-ish cottage cheese tossed in a tamarind and sweet chilli sauce. It was certainly different and I really enjoyed it.
My companion picked Vegetable Samosas (also £2.95). There were two of these and they were accompanied by a salad. They were quite a generous size and would be recommended for a sharing starter.
For my main course I chose Makhon Ke Machli (£8.95) - fillets of cod, flavoured with cardomen in a spicy sauce of almond paste, butter and cream. This had a 'one chilli' symbol on their menu and was not strong at all.
It was actually a lovely dish to look at - it came on an usual plate and the pieces of cod were covered in a red sauce, with cream drizzled around. I tasted the sauce immediately and it was one of those "mmmmmm" moments. I had lemon rice (£2.95) to accompany it - "a good choice", said the friendly waiter, who seemed to know almost everyone in the now-filling restaurant. I always enjoy having fish in an Indian meal and I wasn't disappointed.
My dining partner fancied something spicier and went for a 'three chilli' dish - Green Massala (£7.95), which was diced chicken with herbs, spices, garlic, chillies, lime and tamarind. This lived up to its three chilli rating and went down well with mushroom rice (£2.95) on the side.
We shared a plain naan (£1.95) between us, but I have to confess that we only got through half of it and I couldn't finish my dish either. The starters, following the poppadums, had certainly been on the generous side. I noticed a mother and son from a table nearby taking out a "doggy bag" and I was beginning to see why!
By now the restaurant was virtually full and it was actually getting quite warm. I don't normally complain about the heat at this time of the year, but it was the only gripe about this atmospheric restaurant. We finished off our meal with a coffee each. We were too full to even ask if they had a desert menu!
The final bill came to £51.50, which included three 175ml glasses of wine. My choice of a Chilean chardonnay was our favourite (so I had a second!), while my companion had a zesty-tasting glass of Pinot Grigio. I thought this was excellent value - especially bearing in mind we couldn't clear our plates. We could easily have spent around £20 each and still left feeling like we'd had a royal banquet.
Do you agree with our review? What's your top Wimbledon restaurant? Why not comment on our forum?
Sue Choularton
May 11, 2011