Stroll along The Ridgeway for a real treat
The Light House restaurant has the reputation of somewhere you'd go for a special occasion - so we went to see if it really does stand out from the crowd.
Its immaculate service is apparent as soon as you step off The Ridgeway and go through the door, with a warm welcome and coats discretely taken away.
The Light House certainly has the look of a contemporary, international restaurant, with a continental-style outdoor patio which looks good for the summer. The menu reflects the modern atmosphere.
The choice actually changes every day, so the dishes we sampled may not be always available. But with a selection of eight starters and seven mains during our visit, even the fussiest diner should find something to tempt them.
As it was Halloween week, it was no surprise to see pumpkin and thyme soup with croutons and sage on offer as a starter (£5.50). It was a generous portion and a glorious colour, with a lovely, wintery taste.
My companion opted for the intriguing-sounding salt cod brandade stuffed piquillo peppers, grilled chorizo and soft boiled egg (£7.50). This looked splendid on the plate and was said to be a tasty combination.
For my main course, I picked fresh rigattoni with buffalo mozzarella, peas, cherry tomatoes and baby spinach (£12.50). The tomato flavours certainly came across and there was no skimping on the mozzarella. It was another dish that tasted as good as it looked.
My dining partner chose baked sea bream with creamy anchovy, pesto potatoes and wilted spinach (£16.50). The bream was flaky and succulent and went well with the potatoes and spinanch. It was also complemented by a mixed leaf salad (£3.50).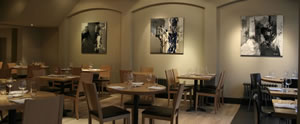 The restaurant atmosphere was quite refined, but relaxed enough for a lone diner to be tapping away on his computer notebook as he sipped a post-meal wine.
We enjoyed a glass of wine each - an Australian 2006 Icely Road Chardonnay and a 2007 Rosé from Thomas and Cécile Carteron, Cotes de Provence.
Our dishes had been so generous, we had no room for desserts - but they included chocolate, walnut and coffee cake with vanilla ice-cream (£5.50) and tonka bean pannacotta with spiced plums (£5.50). We rounded off our meal with a cappuccino and a macchiato.
A 12.5% service charge was added to our bill, bringing the total to £69.18. But the service really had been terrific - discrete, yet attentive and friendly. It certainly helped make the evening feel like a special occasion, so Wimbledon's Light House really did shine out.
Sue Choularton
May 11, 2011