San Lorenzo: A real birthday treat
I can't deny that I'm a fan of Italian food, and as Wimbledon's San Lorenzo restaurant promises authentic Tuscan food made to "maternal traditions" I'd been waiting for a reason to visit.
So a joint birthday celebration gave us the perfect excuse to treat ourselves and test the Tuscan flavours and hospitality.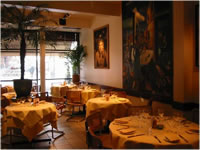 We hadn't booked, but were given a choice of tables - either in a quieter area at the back (which looks like an excellent conservatory area for the summer) or in the middle of the buzzing main room.
We settled for the main room and were given plenty of time to make our choices. I picked grilled asaparagus with parmesan and balsamic as my starter (£6.50). This was well presented and the kind of opening dish that didn't overface me.
My friend chose mixed wild mushrooms crostini (£6.50) - one of a range of five crostini starters. This also looked good on the plate and I'm not sure what the mushrooms were seasoned with, but they tasted good (I had a sample!).
The waiters were just as I was expecting - efficient, but easy-going and ready for a chat if you wanted it. For her main course, my friend chose penne with tomato and buffalo mozzarella (£12.50). She asked the waiter for not too much mozzeralla and in some places that kind of request would go straight over their heads. But when the dish came, it was not over-generous on the mozzarella and the waiter checked she was happy with it.
She was actually really pleased with her meal and thought the sauce tasted really fresh. They state that virtually everything is handmade on the premises and this certainly was.
I had grilled salmon, asparagus and rosemary potatoes (£14.50). This was a generous portion of salmon and done perfectly. We also had a bottle of white wine (Trebbiano at £19.50) and found it quite pleasant.
As we tucked into our food, we also took in the ambience - which was really relaxing and friendly. It actually felt quite cosy, but we weren't close enough to other diners to overhear each other's conversations.
To round off our evening we thought we could somehow squeeze in a shared dessert and a couple of cappucinos. The coffees came really promptly, but there seemed a bit of a wait for our tempting-sounding Bonnet Alla Mrs Simpson (chilled chocolate, coffee, rum and almond biscuit mousse, £7).
We carried on chatting and barely noticed the wait. But our friendly waiter obviously did notice something was wrong and when our dessert arrived, we actually got two - the second was complimentary, as an apology for the delay. So we also got a San Lorenzo special - a cold pancake with chantilly, amaretti and Tia Maria liquor.
The sauce in the pancake was absolutely delicious and the mousse was also rich and tasty.
The total bill (including 12.5% service charge) came to £81.56 - a price worth paying for a relaxed birthday treat. They also do a two-course set menu for £16.50, which I might try on a less celebratory occasion. San Lorenzo is at 38 Wimbledon Hill Road if you want to pay a visit.
Sue Choularton
May 11, 2011