Chang Thai restaurant: Well worth seeking out
The cosy Chang Thai restaurant may be slightly off the beaten track in Merton Road, South Wimbledon, but it is worth walking those extra few yards from The Broadway to visit it.
You usually get a warm welcome at most Thai restaurants and this family-owned and run eatery is no different.
While the external and internal appearance may not be quite as upmarket as some, the relaxed and 'no-hurry' atmosphere coupled with friendly service, make it a pleasant place to spend an evening.
I'd almost finished my complimentary prawn crackers when my starter of Poh pia tord (vegetable spring rolls, with glass noodles, carrot, coriander and sweet chilli sauce) arrived. This was well presented and the coriander helped make it particularly tasty.
My companion had Tord mum pla (spicy Thai fishcakes with limeleaf, plus sweet chilli and peanut sauce). I tried one of these and found it as good as any I've ever had, and reasonable value at £4.75. The main courses were also competitively-priced, with many costing £6.50, and side dishes of rice and noodles priced at £2.50.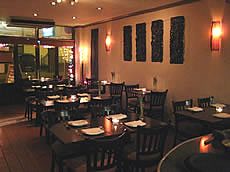 There was a bit of a wait for the main courses, but it was reassuring to know it was being freshly prepared. I had Pla neung see eaw (Steamed fish with soy and ginger) and opted for a salmon fillet (£8.50). It was a generous, and well-cooked, piece of salmon and another pleasantly-presented plate.
My companion had Gang kiew wan (green coconut basil curry with Thai aubergine, bamboo and mixed vegetables). It came with either beef, chicken, tofu, pumpkin, duck, prawn, salmon or a whole filleted fish.
The curry, according to my dining partner, who chose the chicken version, was tasty and had just the right level of spices.
The curry was washed down by a glass of Thai Monsoon Valley wine, which was very light in colour and slightly more distinctive than the Chilean Chardonnay which I opted for. Small glasses of wine ranged from £3.25-£3.85 and my companion also tried a French house white, while I sampled a Rose, Breganze Pinot Grigio. But the Thai wine was declared our favourite.
Our main courses, which we accompanied with coconut rice and egg-fried rice noodles, had just about filled us up, but we just had room to share one of the three desserts on offer.
The Kanom kluay was a home-made banana and coconut cake, which was served warm with ice cream. This had an unusual texture and not quite like anything I'd had before, but it certainly felt like an authentic way to round off our Thai experience. The total bill, including two coffees, came to a reasonable £51.80.
The restaurant at 136 Merton Road is fairly small and they recommend booking on Friday and Saturday evenings (Tel: 0208-543-6213). It also has tables on a garden patio which look very pleasant for a relaxing weekend lunch in the sunshine.
Sue Choularton
June 7, 2010