Say Hi! to Bangkok in SW19
I walk past the Hi! Bangkok restaurant almost every day and it always catches my eye as the tables are set so pristinely they look almost too immaculate to eat from.
So I picked a Saturday night to see if its elegant appearance, which has certainly brightened up the Kingston Road street scene, was matched by the food on offer.
It's quite a small restaurant and once we'd picked our table, there were only six seats left for other passers-by attracted by the now busy-looking atmosphere.
There was certainly no problem with finding something we both liked on the menu - with a mere 119 dishes to choose from. We spent a good 10 minutes trying to decide, with no-one rushing us to get a move on.
From the 16 starters (including a separate vegetarian section) we opted for Poh Pia Jay - deep-fried vegetable spring rolls with plum sauce - and Tord Mun Khao Phod - deep-fried sweetcorn cake with peanut and cucumber relish.
While they were being cooked, we were given a bowl of complimentary prawn crackers to share.
Our starters (which cost £4.25 each) came on a gloriously-presented dish. With six spring rolls and four sweetcorn cakes between us, they certainly weren't skimping us on the starters.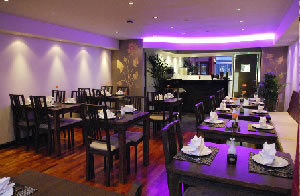 Both were lovely and hot, with the spicy sweetcorn cakes and accompanying sauce being declared our favourite. I suppose they were just a bit different from the spring rolls - although they were absolutely fine.
For our main courses, we both plumped for the "Chef's Recommendation" section of the menu. I opted for Salmon Phad Priktai Dum (fried fillet salmon with black pepper in a combination of red and green pepper, onions and coriander), while my companion went for Goong Phad Kaeng Kheow Warn (king prawn stir-fried with green curry paste, coconut milk, egg plant, green beans, lime leaves and sweet basil).
My £9.95 salmon dish came just when I was ready and on a sizzling black plate. The sizzle alone was enough to get my appetite going again, which was just as well as it consisted of two salmon fillets covered in peppers and onions.
The salmon, which was topped with black pepper, was just perfect. The peppers and onions made a slightly crunchy accompaniment to the tender fish. The generous portion was also a bit too much for me to manage - perhaps if I'd skipped half the sweetcorn cakes, I might have finished it.
The king prawns and their accompanying sauce and vegetable (£8.95) made for a colourful and tasty-looking dish. My dining partner likes her curries on the strong side, and this was just enough for her.
We had a bowl of rice each (£2.80), but probably should have shared one - as the attentive waitress remarked when she collected our plates.
This is a 'bring your own alcohol' restaurant, with varying charges for corkage. We were charged £3 for our own wine.
None of the surrounding diners were looking at the dessert menus and we didn't have any room for one either. A glance at the menu showed it was mainly ice cream-related dishes. There was also a choice of around seven different Thai teas.
Our final bill came to £36 - a good price for excellent food and service. On a busy night, it's perhaps not a place to go for an intimate meal-for-two. The chattering of the other diners did seem to bounce around the walls, making conversation a bit hard. But if top quality Thai food and service is your priority for the evening out, then you won't go far wrong.
Do you agree with our review? What's your top Wimbledon restaurant? Why not comment on our forum?
Sue Choularton
August 22, 2011