Meal review: The Charles Holden
The Charles Holden pub has taken over a prime spot in Colliers Wood, opposite the tube station and the tower once dubbed the ugliest building in London.
The Colliers Wood Tower is at long last about to get a makeover as part of a £70m regeneration scheme, and it's tempting to see the arrival of the Charles Holden as part of that revival of the town.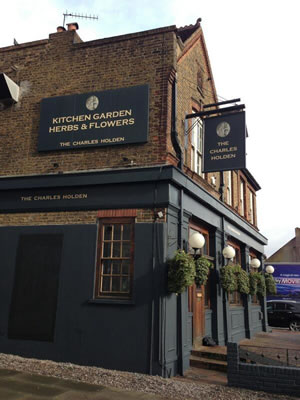 Fittingly, the pub (left) is named after the architect behind Colliers Wood tube station, the London Underground HQ at 55 Broadway, and London University's Senate House – all buildings of far more merit than the tower that is visible from the pub's back garden.
Once that building is fitted with shiny new glass cladding it will be a cheerier vista than the brooding presence it is now. But even the current presence can't spoil the Charles Holden's outdoor space, which combines an outside bar, seating areas, and weekend bouncy castle with an allotment and herb garden providing produce for the pub's meals.
We settled down next to the herbs and had a drink (a well-poured Navigation ale – one of four real ales on offer) before our meal, while our six-year-old enjoyed inspecting the baby courgettes growing among the fennel, spinach, beans, peas and chard in the vegetable area.
Food is ordered at the bar for most of the pub, but there's an inside dining area with table service so we moved here for our meal, sitting down close to the long bar, sporting gladioli when we visited.
The service struck the right note, attentive but relaxed and chatty and no long waits between courses, which were good gastropub fare, including grilled 8oz steak, beer battered fish with twice cooked chips, and pork and leak sausages with creamy mash.
For starters I had crab cakes in sweet and sour sauce that were zingy, though probably more potato than crab. My partner opted for asparagus wrapped in Palma ham, which she said was light, crispy and just enough to get her taste buds ready for the mains.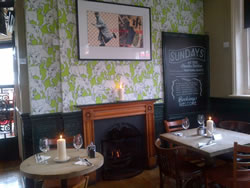 Other mains options were free range piri-piri chicken breast, fresh salmon or sea bream with crushed new potato, and lamb cutlets with garlic mashed potato.

Sadly they'd run out of lamb cutlets (at 7pm) so my partner went for steak with fries and coleslaw – which came as a perfect medium rare specimen. The homemade coleslaw was crispy but maybe a wee bit creamy for a rich steak.
My grilled Smithfield pork chops were well done, possibly a tad dry, but served with some lovely courgettes in mustard sauce. We checked and the courgettes had been picked from the garden that morning – you don't get fresher than that.
On her first restaurant review, our daughter felt there could have been more than three kids' choices; children's size portions of fish and chips, sausage or aubergine, rocket and tomato risotto. But her fish and chips were wolfed down so the choice range was hardly a problem.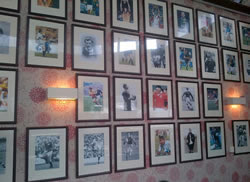 There were some quirks; the menu listed a carafe of Listening Station Malbec, but we were served a bottle – but again, this was hardly a problem. If there's one thing to improve, it's the toilets. The rest of the pub has had a pleasing makeover, but the gents and ladies seem to have been sadly left out.
We left mid-evening having enjoyed a meal with a small child in a pub that is suited to Saturday evening drinkers as well as families wanting a relaxed meal. That's not an easy trick to pull off but the Charles Holden seems to have cracked it.

The pub makes much of its involvement in the Making Colliers Wood Happy project to build community spirit and improve the environment in the area. Well, we left happy and we think its presence will increase the happiness of many locals, with kids or without, who've been waiting for a place on their doorstep to enjoy a drink and good food.

Chris Gray
Do you agree with our review? What's your top Wimbledon restaurant/pub? Why not comment on our forum?
July 10, 2013