Sticks n Sushi offers a unique dining combination
A new dining concept has arrived in Wimbledon, offering an intriguing combination of sushi and grilled skewers, served in a distinctly Scandinavian-feeling restaurant.
Not surprisingly, the inspiration for Sticks n Sushi came from the half-Japanese and half-Danish background of brothers Jens and Kim Rahbek.
They're already running nine successful restaurants in Copenghagen and recently bought the concept to Wimbledon Hill Road.
First impressions are that it's definitely like no other restaurant you'll find in Wimbledon. Its decor manages to combine a clinical Nordic look, with Japanese-style bench eating.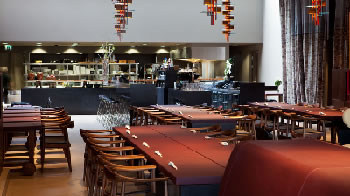 We visited on a midweek lunchtime when it wasn't too busy and we opted to sit on a more traditional table-for-two. We were offered hot towels to clean our hands before starting our selection from their choice of two menus.
First-time eaters will need a bit of an explanation from the pleasant staff before making their choice from the brochure-style menus.
One menu offers suggested main course plates with a combination of sushi and grilled yakitori sticks. These ranged in price from £6.50 for eight sushi rolls to £65 lavish sharing platters. The sticks are really mini-skewers with grilled chicken, pork, fish, beef or vegetables. These menus are certainly the ones to go for if you've got any time limitation.
The other 10-page menu - called "Free Choice On All Levels" - allows you to build your own meal of sticks and sushi by selecting individual items. Sticks, such as 'salmon with teriyaki pickels', cost £2.50 each and eight small shrimp and spicy sauce sushi rolls cost £3.80. But there really is a lot to pick from!
We chose a bowl of spicy edamame beans (£3.50) to start with, as well as a couple of soft drinks. My ginger and lemon fizz bottle (£4.20) had come all the way from Denmark. Most of the staff seemed to be Scandinavian as well.
The beans were a tasty nibble to start with, and we asked for the sauce to come in a separate dish in case it was too spicy - but it was just fine.
The meal experience was made to feel almost theatrical and it seemed acceptable to admire the spread on the table next to us while we waited for our food. This is a restaurant which certainly specialises in modern crockery and a striking look to their presentation.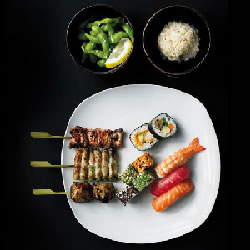 My companion opted for the 'Mixed Emotion' platter which, for £17.50, included nine different sushi salmon, tuna, prawn and vegetable rolls; three sticks with chicken, bacon/asparagus and pork; edameme beans; a choice of rice or potato salad (see left).
This actually came in a couple of deliveries to our table and it was a shame there was a bit of a wait before the complete meal arrived, despite the restaurant not being very busy. We'd also both asked for glass of pinot grigio with our main courses and we did have to repeat this order before it came.
I opted for another platter - the £15.90 'Fishing Rod'. This included four sticks - miso-marinated white fish, terriyaki salmon, tuna and chilli dip and terriyaki scallops. It came with rice, kimchee and squid salad.
Once all the food had arrived, our table was certainly a sight to behold. I found the fish was grilled perfectly. I like my fish quite well done and this flaked in my mouth as I bit it off the skewers. We both ate with chopsticks, which is always fun. The squid salad was perhaps a bit tricky for this novice chopstick user. But the squid was lovely - not too chewy and with a flavourful coating.
My companion's plate was a bit bigger than mine, but it also got full marks for looks and flavour. She was certainly glad she'd not opted for the "additional choice" offered alongside the plate - a salmon tartar for an additional £5.
We both thought we'd better sample a tiny dessert after we'd finished our main courses. These are offered in sushi-style sizes and quantities. I thought I'd just have room for a chocolate bite (£1.50), which was a truffley mouthful, coaked in rice cake. My companion couldn't resist a creme brulee for £2, which was a big enough treat to round off the meal.
We also had an espresso and a fresh peppermint tea. Along with the four small (125ml) glasses of wine we'd had between us, this bought the bill up to £68.20. The gratuity was automatically added to the bill, giving a total of £76.72. While it was expensive for a lunch, we had felt we wanted to try as much as we could.
We should really have left feeling a little less full and fitter for the rest of our afternoon, and then we could have have spent less than £50. But for a special evening out, I can definitely recommend sampling as much as you can manage. It will certainly give you a night to remember.
Do you agree with our review? What's your top Wimbledon restaurant/pub? Why not comment on our forum?
Sue Choularton
June 1, 2012