A touch of Cajun is a treat
You don't have to cross the pond for a taste of America, as Reds Bar and Grill has bought it to our doorstep.
The relaxed-looking diner is right opposite New Wimbledon Theatre on the Broadway and a good place to stop for a pre-theatre bite.
But we gave it a try as we fancied something a bit less formal than a stuffy restaurant and found Reds was just the place where we could chat for ages as we grazed our American-style cuisine.
When we arrived in the half-full restaurant we were welcomed to a table which gave us a good view of the busy Broadway and didn't hem us into other diners.
We started by sharing a Reds Bruschetta (£6.50). As well as the standard tomatoes and basil, this also included a pot of black olive tapenade. This was absolutely delicious and my friend and I were fighting each other to finish it off!
For my main course, I wanted to try something to fit into the American theme and went for Vegetarian Alambras (£9.95). I'd been half-minded to plump for the char-grilled salmon (£10.95) which I'd seen passing me on its way to another table. It looked a generous and tasty dish, but I wanted something I'd not tried before.
The friendly waitress said the Alambras came on skewers (excuse me for being ignorant). They were also accompanied by Cajun fries.
The fries had a real kick to them and my skewered veggies and chargrilled halloumi, including mint dip, were certainly tasty and the portion was big enough for me. But I couldn't resist having a few nibbles from my friend's plate.
She'd picked a Mediterranean Veggie Platter (£13.95) which was a huge dish of goodies and more than enough for one! It included more lovely bruschetta as well as pitta breads, olives, humous, dips and mini-skewers including grilled halloumi.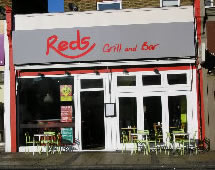 The restaurant (left) was getting fuller and more atmospheric by now, but the noise wasn't too loud to stop us talking as we did our best to finish off my friend's plate.
Our conversation had been eased along by a nice bottle of Cateratto, an Italian white wine which seemed excellent value at £14.50. Perhaps we should have had something from California, but I think we made a good choice - and we somehow missed sampling cocktails such as Peach Bellini and Caipirinha.
We did have a look at the dessert menu, which included a range of homemade dishes such as lemon and lime cheesecake, chocolate parfait with hazelnuts, and banoffee pie, for £4.50 each. But we were too full to even share one and opted to round our meal off with a latte and cappucino.
Our final bill came to £55.35, including a 12.5% service charge which was automatically added on. We had no grumbles about that as the service had been quick and efficient. We also weren't rushed and somehow whiled away around two hours in there. So if you want to enjoy a relaxed American-style meal, you don't need to go further than SW19.
Do you agree with our review? What's your top Wimbledon restaurant/pub? Why not comment on our forum?
Sue Choularton
November 23, 2011