Review: The Lawn in Wimbledon Village
We approached The Lawn with a certain amount of excitement as its website does a good job of suggesting it delivers a fine dining experience at a decent price, right in the heart of Wimbledon Village.
There were tables free close to the window and we hoped one of them had our names on it so we could watch the Village at play on a Saturday night while we enjoyed the French bistro experience.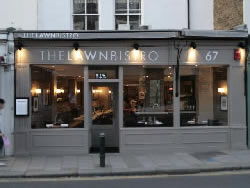 So we were a little disappointed to be ushered right to the back of the restaurant and placed next to the fire escape. We'd booked nearly a week before so thought we might get a prime spot. Had we done something wrong? Did the restaurant fill from the back, or should we have booked further in advance?
No matter, the service was courteous in the extreme and we had the choice of some enticing pre-dinner cocktails, or a quick beer from the local By The Horns brewery. The brewery is in SW17 so officially is Tooting, but its location by the former Dons' football ground makes it an honorary Wimbledonian.
I chose a spicy citrus "Bobby on the Wheat" pale ale which was a light pre-dinner livener, and my partner loved her fresh and zingy Pousse Rapier (Champagne with orange liqueur)
From our position we felt a little isolated from the lovely chilled ambience in the rest of the restaurant but we enjoyed the muted sage paintwork and Aubrey Beardsley lithographs that contrasted nicely with lots of mirrors to create a warm inviting feel.
Staff were attentive but there was also a hint of something a bit patronising at times – my partner's French was corrected once or twice and we were given the odd unnecessary explanation. But generally it remained friendly and helpful.
It was also brisk – possibly slightly too speedy. We asked to be given a few more minutes to choose our meals and detected a bit of impatience at the time we spend mulling over the wine list. The starter arrived before we finished up our aperatives.
The menu is very French; snails, ox cheeks and veal were all options on the night we were there. I had decided to try to banish a bad experience with snails in France, by trying the starter salad of duck hearts and snails with green beans and crisp potato galette.
And I fear snails no longer. They, and the duck hearts were tender and tasty enough to overcome the most entrenched prejudices against les escargots.
My partner's chicken liver and foie gras parfait with grape and orange chutney was rich, moussey and packed with flavour.
For mains we both sampled the fish – in my case Pollock served with smoked bacon, creamed white beans and Jerusalem artichokes, which turned the poor man's cod into a far grander affair.
My partner pronounced her fried fillet of sea bream with crayfish, courgette and saffron risotto as beautifully crisp and delicious but she did find the risotto a little sharp and overly-lemony, drowning out the flavour of the crayfish.
Both mains were polished but lacked a wow factor we'd been hoping for. The desserts, however, did leave us wowed. My vanilla cheesecake with blueberries and white chocolate was vanilla with vavoom! And my companion's chocolate fondant with caramel ice cream and honeycomb was oozily delicious.
After the first two courses arrived the pace of service slowed down and we were able to sit back and watch the evening wind down over a peppermint tea, and rather fine (as you'd hope at £9 a glass) of Merlot Eiswein Johanneshof Reinisch, Thermenregion, Austria.
The wine menu is one of the attractions here, as there's a huge selection, with prices ranging from £19.50 to £140, and a resident sommelier to help you navigate.
Overall the set menu food is good value at £37.50 for three courses or £32.50 for two, but drinks do push up the bill. Aperitifs, three glasses of wine, coffee, tea and the 12.5% service charge brought out bill to a little short of £140 for two.
The Lawn is definitely worth trying if you want some unusual French food in a lovely setting. But maybe request the table you're after when you book.
Do you agree with our review? What's your top Wimbledon restaurant/pub? Why not comment on our forum?
Chris Gray
November 30, 2012