Bill's brings its homely charms to Wimbledon
Bill's is a newcomer to Wimbledon town centre, but I was surprised how many people had heard of this growing chain and its reputation for warm welcomes.
We picked a lunchtime to check if Bill's reputed charms extended to SW19 and its new home in Hartfield Road, behind the cinema.
It's certainly got a homely atmosphere - all wooden furniture and groaning shelves of tempting produce giving a slightly cluttered feel to the restaurant.
Our waiter was certainly very pleasant, if perhaps overly keen to say we'd made a good choice for every item we selected.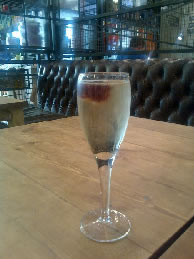 Our first choice, hower, was definitely a good one. We immediately decided to try a Hedgehog Fizz - sparkling wine and elderflower cocktail (£3.95). Each glass came with a couple of floating raspberries (see left) and they were a perfect tipple for a lunchtime treat - highly recommended!
We decided against a starter, but there was plenty of choice - including crab spring rolls (£5.95), ham hock terrine with home-made picalilli and toasted sour dough (£4.95) and potted smoked mackerel (£4.75).
Although it was a midweek lunchtime, the restaurant was about two-thirds full, but there was a relaxed atmosphere and no rush to order our next "excellent choice". We opted for a grilled sea bream with pressed tagliatelle cake (£11.50) and pea and mint risotto (£9.95). We asked for a mixed salad (£2.95) to share. Unfortunately, we'd finished our Hedgehog Fizzes by now so had two soft drinks - an elderflower cordial and a citron soda.
Risotto can go wrong at even the best restaurants, but this was done perfectly and was a good lunchtime size. My sea bream was tasty and the tagliatelle cake was really a side of pasta. It all went well together and came with its own side salad.
All the main courses, which included pan-fried salmon, piri-piri marinated chicken, fish pie, hamburger and thai green prawn curry, ranged in price from £8.50 to £15.95 - but most were about £9.95.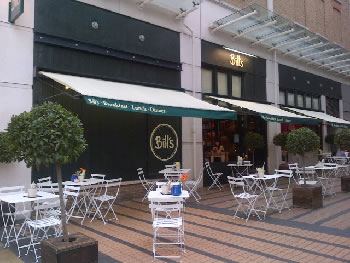 Bill's (left) is also open for breakfast until midday, and 1pm on Saturday and Sunday. I'm told that it's a popular weekend haunt, with a full breakfast plate costing £7.95.
The puddings looked large and delicious, but were perhaps a bit too rich for lunchtime. Potential choices included Eton mess (£5.95), warm chocolate brownie (£5.95) and raspberry and vanilla creme brulee (£4.95).
We did finish our meals off with a peppermint tea and a double macchiatto. This bought the total bill to £48.60. It included a 12.5% service charge, but we couldn't quibble with that, as the service did seem just as promised - warm and genuine. I got the feeling they'd still be as charming on a busy Friday evening, so I'll have to go back sometime just to check....
Do you agree with our review? What's your top Wimbledon restaurant/pub? Why not comment on our forum?
Sue Choularton
August 16, 2012