Meal review: The Coal Grill & Bar
The Coal Grill & Bar in Wimbledon's town centre promises to be one of those places that has something to suit everyone.
As it explains on its menu, it gets name from the way the food is made - it's prepared and grilled over hot coals or a stone oven.
There's no doubt that its prime position on the Piazza (below), right by the cinema and supermarket, gives it a captive audience. But I have to say, it was fairly quiet when we met at 7pm on a Tuesday night, so we had a good choice of tables. As soon you as you walk in, it's clear that it's a good place for group dining, with smaller tables nearer the windows.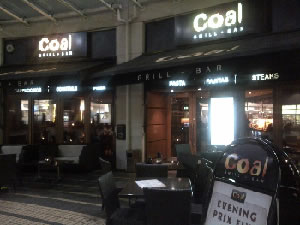 We couldn't resist starting with the 'Tear & Share' bread board, with oil and vinegar. Other choices included tapas-style small plates and more Mexican-themed dishes like coal nachos and spicy chicken quesadilla.
The main menu certainly did have plenty of choices for everyone. We pondered over their "famous firesticks", dubbed as their "signature dish". The concept reminded me of the Sticks n Sushi restaurant up the road, with skewers of meat and fish delivered on a hot skillet with a range of vegetables.
But my friend opted for another of their "Coal favourites" - a Cajun chicken house fajita. This was a striking-looking plate, which would certainly have appealed to the young-at-heart. The fajitas were still sizzling when they came, and were sat on a kind of little tower, along with all the ingredients of peppers, chilli, onions, salsa, cheese, guacamole and sour cream.
I had pan-fried fillet of salmon in a white wine sauce, served with green beans and saute potatoes.
We wanted a bottle of wine with our meal and asked the waitress to recommend one. With white wine ranging from £17.25 to £21.50, we were quite impressed that she didn't plump for the most expensive. It was a good choice too!
My friend's self-assembly meal may not have been to everyone's liking, but it was fun for her to eat and was well-cooked. My salmon was a generous size, with the sauce not being too over-powering. The accompanying veg were fine.
As it's a grill restaurant, most of the menu concentrated on burgers, steaks and American-style chicken. There are also pasta and pizza options.
As we had a good window seat, we took our time with our meal and certainly weren't rushed. The service was fairly attentive though.
It's a restaurant that tries to combine itself as a bar, with a vast range of cocktails also on offer. The bar is quite a distinctive area from the rest of the large restaurant, and a few people started gathering there later on.
I'm afraid to say we were too full after our main courses to do any more than look at the dessert menu. It did look like paradise for those with a sweet tooth - including Coal's version of Eton Mess, a chocolate fondant sponge, sticky toffee pudding and apple pie.
We wimped out with just a coffee each and asked for our bill. The service charge was automatically added on, but we couldn't really argue. It came to £61.09, which was by no means a cheap night out, although we had no real complaints. But they also do a lunchtime 'prix fixe' menu of £6.95 for one course, £8.95 for two courses or £10.95 for three courses. There are five main course options on offer for this deal, which is definitely better value.
Sue Choularton
Do you agree with our review? What's your top Wimbledon restaurant/pub? Why not comment on our forum?
April 8, 2013