Review: Masterchef winner tantalises our tastebuds

The Jolly Gardeners seems to have all the credentials to be a hit with south west London diners, with a menu created by Masterchef winner Dhruv Baker offering dishes you simply won't see anywhere else.
Courses on offer for dinner included pork belly, carrot and cardamom puree, curly kale and chimichurri sauce (£16); chorizo-stuffed chicken, sage, sauteed new potatoes, baby carrots and braised baby gem lettuce (£15) and 28-day aged ribeye steak, teriyaki glaze, shallot puree and fries (£22.50).
Most of the dishes had intriguing-sounding ingredients and the efficient staff were only too happy to explain the menu in a bit more detail. You could tell they had genuine enthusiasm for the food they were serving at this Garrett Lane pub - which is always a good sign.
One of us selected a starter of spiced crab cakes, shaved fennel and tamarind yoghurt (£8). Not only was this such a generous portion, with the crab cakes containing 18 separate ingredients, that we could have easily shared it. This really was a dish made with some care, with its gorgeous spicey taste, helped by the tamarind yoghurt.
While there was more than an Eastern hint to that starter, my chilled gazpacho, herb oil and Catalan tomato bread (£7) was a nod to the other side of the world. I last had gazpacho in Seville, and this one was distinctly more zesty.
I then had a bit more of an Eastern kick with my main course of pan-fried sea bream, turmeric and fennel butter, coconut green beans and cumin sauteed potatoes (£14). The bream flaked in my mouth and there was just too much of it for me to clear my plate. But the combination of flavours really worked well and the vegetables were cooked just perfectly.
On the other side of the table was the menu's vegetarian offering of baked mozzarella, broad bean crust, summer veg, tequila and cactus salsa (£11.50). This looked a seasonal picture and the tequila and cactus salsa was so different that we simply had to ask for a bit more information about it. We learnt it's made from cactus leaves imported from Mexico, ground down with ingredients including lime and tequila. It's just fantastic they go to this much trouble to make a vegetarian dish - if only other restaurants followed suit.
Now while there's wide selection of wines to pick from (with bottle prices starting from £17.50), we were also there to sample the real ales they had on offer. We had two lovely, local, brews - the floral-tasting 4.2% Northcote Blonde from nearby Belleville Brewing and the more familiar Wandle (3.8%) from Battersea-based Sambrook's.
Some of the desserts seemed just too filling to eat after our first two courses - such as chocolate cake, Guinness sauce and hazelnut brittle ice cream (£7.50) - so we plumped for raspberry mille feuille, Chantilly cream, raspberry sorbet and raspberry tuille (£7.50). This was a picture on the plate and was a big enough portion for us to share. While it was not quite as amazing as other other dishes, we had no trouble finishing it off.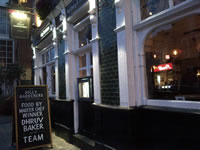 The dining room had been full for most of the evening, and I can see why. I definitely recommend making a brief trip down the road (or the train line) to sample a meal that won't disappoint if you like flavourful food.
By Sue Choularton
Have you been to The Jolly Gardeners - what did you think? What's your top local restaurant/pub? Why not comment on our forum?
June 26, 2015