We check out the facelift at Brew in Wimbledon

Brew in Wimbledon has become a familiar face on Wimbledon Village High Street, but it's just had a makeover in time for the annual tennis championships.
Not only has a wood-fired pizza oven been introduced at the back of the restaurant, but there's also a smart new bar area at the front.
We were actually there to review its new evening menu - including a tantalising range of burgers featuring chicken, duck, halloumi, crab and beef.
Burgers weren't the only food on offer when we visited, as the evening menu included risotto, fishcakes and steak. However, almost everyone in there seemed to be tucking into a burger - tempted by the £12.50 deal, including burger, chips, salad and half a pint. So we decided to join in with them, and while my friend opted for a duck burger, I picked the intriguing-sounding halloumi burger.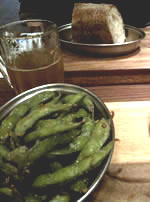 As our burgers were cooked in the gleaming white-tiled kitched at the back, we had a couple of starters. I went for smoked edameme beans in lemon and Meldon salt, while opposite me came sourdough bread and oils (see left).
My beans were perfectly cooked and it was a generous portion. I was glad it came with an extra tray to desposit my shells.
Then came our burgers. My friend had been unsure about the idea of a duck burger, but decided to give it a go. And after a couple of mouthfuls of the shredded duck with hoisin sauce, cucumber and radish she declared it to be really tasty.
Each burger came on a wooden block, along with a big portion of fries and a green salad.
I'm a fan of halloumi, but had never had it in a burger before. It also contained grilled red pepper, which gave it more of a barbecue feeling, and meant I had a real mouthful of flavours. I have to admit that I had to leave some of the burger bread behind - there was just too much after my lovely starter.
We definitely enjoyed the half pints of golden and refreshing beer, from nearby Northcote Brewery, that came along with our meal.
We also wanted to sample the desserts and thankfully my friend had a little bit of space to try sticky toffee pudding with ice cream. It was another ample portion, but looked and tasted a real treat.
I know Brew is very popular during the day, but it's worth a look in the evening too. It's got a cavernous interior, which is very deceptive from the entrance.
The menu will definitely appeal to the younger generation, but it seems a great place for a relaxed family meal, with something to please everyone. The staff were friendly and efficient. I know they'll be rushed off their feet during Wimbledon fortnight, but they seemed like they were ready for the challenge.
By Sue Choularton
Have you been to Brew - what do you think? What's your top local restaurant/pub? Why not comment on our forum?
June 11, 2015