A touch of Italy is found on Leopold Road
Cafe Rosi is one of the hidden gems on Leopold Rd. It offers the tastes of Italy whether you are popping in for a quick cappuccino with tasty Italian cakes & biscuits, a light lunch or a three course evening meal
My friend & I stopped for a late 'brunch' whilst ticking off our Friday chores. The rich italian black coffee and cafe latte hit the spot and we then tucked in to our scrambled eggs - mine with fresh tomatoes and mushrooms (£3.75) and Mirren opted for the more traditional smoked salmon(£4).




I was intrigued by the Pizza breakfast on the menu - sausage, egg, bacon, mushrooms, bean on a fresh tomato pizza base (£6.95) I imagine that would go down very well with my teenage son!


The Italian staff led by Lucca (seen here with Alessia & Sofia) were welcoming and the cafe obviously draws regulars watching the banter between guests and the staff.

The menu for lunch and dinner is extensive offering large salads, panini's and sandwiches with a choice of focaccia, ciabatta or sliced bread keenly priced from £3 - £4. Sicilian rice balls (£3) and a choice of pasta dishes and 9"pizzas(£4/4.50), plus traditional meat and fish dishes such as cod with cherry tomatoes, garlic, white wine & Sicilian olives (£14.50).
Cafe Rosi also offers an 'Aperitivo' from 3-6pm Monday to Saturdays giving a an anti pasta plate with a glass of wine or cocktail for £7.95. Perfect for a pre cinema theatre bite to eat or after work nibble?!

Cafe Rosi has a special readers offer: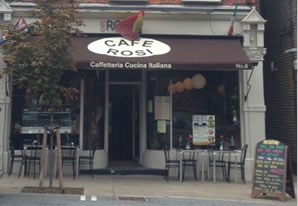 2 course lunch £5.95
********
3 course dinner Thursday, Friday & Saturday £12.50
* make sure you mention WimbledonSW19 to get these prices

Sandi Bloomfield
Have you been to Cafe Rosi - what do you think? What's your top Wimbledon restaurant/pub? Why not comment on our forum?
October 15, 2013