Wimbledon 55 v Dings Crusaders 5
Promotion Play-Off

What a day for Wimbledon RFC! The performance of the season – perhaps even ever – by all 19 players in the day's squad, produced a crushing 55-5 victory over Dings Crusaders, runners-up in National 3 SW, to earn themselves a place in National 2 next season.
It was a massive day as well for all Wimbledon players, whose constant pressure on places in the 1st XV has helped produce such an excellent squad. And as for the coaching team, led by Harlequin and former All-black Nick Evans…..it was their day too, as it was for the huge crowd of spectators comprising players past and present, friends and families, and a quite a few impartials just wanting to see a good game. And that they certainly did.
The match couldn't have started better for Wimbledon when, after two minutes, captain Dylan Flashman brushed aside tacklers at a lineout on half way and sprinted down the touchline to score. To no one's surprise Bryan Croke duly put over the first of his 5 successful try conversions.
Dings hearts must have sunk at the first scrum – allegedly their main strength - when they were unceremoniously shoved backwards by Dons. With the game played almost entirely in Dings' half it was inevitable that Dons' superiority would produce another score, this time it was a Croke penalty conversion. Twenty minutes in he added a further seven points when, from a break by scrum half Rhys Morgan on half way, he shimmied through Dings' defence to run in under the posts.
Soon after Dings won their first decent possession and entered Dons' half for the first time, but Wimbledon's brick wall defence snuffed out their attack, turned it into their own and piled on the pressure again. Before half time a storming run by hooker Jesse Muir yielded a ruck 15m out and three quick phases later Morgan jinked through and over the try line. Croke's conversion made it 24-0 at half time.
Almost from the re-start a series of powerful drives took the game in to Dings' 22 from where slick handling by backs and forwards alike put wing Dan Cheers in at the corner for try no. 4. He also got the fifth, ten minutes later; with Dings reduced to 14 men after a red card for a tip tackle, a superb chip by Croke found Cheers' outstretched arms and over he went.
Entering the final quarter the score moved to 41-0 when no.8 Roy Godfrey threw an outrageous dummy and raced 20m to score unopposed. Then a lapse in concentration by Wimbledon – the only blemish of the day – let Dings in for a pushover try from a lineout 10m from their line. But they soon hit back with a second try for Flashman after he, Godfrey and Muir had rumbled over from 5m out. The final try, just before the whistle, came after a typical weaving run by the mercurial Croke which left the defence flat-footed. The try was converted by lock Campbell Tait, his final contribution to an excellent – albeit too short – career with Wimbledon.
The club will also miss the outstanding services of Messirs Godfrey, Muir, Hunt and Croke, who are all moving on, but the hard core of the team are looking forward to building a new squad for the challenges they face next season in the fourth highest tier of English rugby.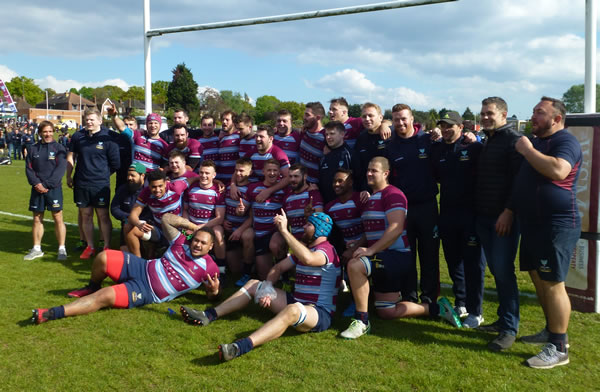 May 9, 2017