Wimbledon RFC Have A Well-Earned Win Against Guernsey
---
Guernsey 29 v Wimbledon 38
National League 3 South
Until they lost to Wimbledon 29-38 on Saturday Guernsey had only lost twice at home this season - and it's not hard to see why. They're a very able, well drilled and competitive team who like to play, as Wimbledon do, an expansive running game....so much so that with ten minutes remaining, they led 29-24.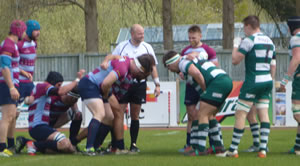 But Wimbledon aren't second in the league for no reason and a well-earned try by Josh Bayford with six minutes left, then an intercept and sprint from half way by – appropriately enough - Bryan Croke, both of which he converted, saw Dons home.

The home team had the best of possession for much of the game, aided by Dons, new-found ability to lose almost every re-start, plus a hefty penalty count against them.
Guernsey scored the first try when Dons gave the ball away from the kick-off and after several strong phases flanker Mercadal jinked over the line. Hellier converted, and was to be successful twice more in the game. A Croke penalty, after Jack Reville and Josh Charles got very close to the Guernsey try line, and a typical opportunist try by Rhys Morgan, after a penetrating run by fullback Matt Gilbert, put them in the lead 7-10. But from the re-start (yes, another one) Mercadal scored his second, and it was 14-10.

Morgan then deserved a second try, but his touchdown was over the line from an earlier game and a metre short of the real one! But his pass to Croke on the blind side of the ensuing ruck and his slick onward pass to Charles saw the wing in at the corner. Then a storming run by flanker Jimi Hunt brought another Croke penalty and the see-saw half ended 14-18.
Wimbledon again screwed up the re-start and Guernsey grabbed the opportunity to score through their bulky prop Batiste when Dons simply ran out of defenders. But two penalties to Croke against one for Hellier took Dons into a slender 22-24 lead again.

After 70 minutes a well-worked converted try by Guernsey flanker Hill took the home team back into a five point lead. Then came those tense final six minutes, with powerful pick and drives by the Wimbledon forwards, spearheaded by captain and no.8 Roy Godfrey, and the two win-clinching tries brought a climax to a fine game between two good sides.

Wimbledon host Shelford next week in the penultimate game of the season, other than the promotion play-off of course.
Footnote: The very fair report in the Guernsey Press singled out Bryan Croke as "as sweet a kicker of a rugby ball as you are likely to see at this level."
April 14 , 2017