Wimbledon 0 v Luton Town 0 (AET)
(Wimbledon win 4-3 on penalties)
Wimbledon will be back in the Football League next season – just nine years after being forced to start again in the Combined Counties League – following a dramatic penalty shoot-out win over Luton Town in Manchester on Saturday (21 May).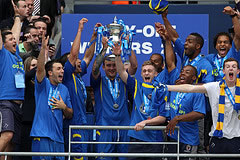 Skipper Danny Kedwell blasted home the decisive spot kick after a tense 0-0 draw to send the travelling Dons fans wild and cap a remarkable rise.
And goalkeeper Seb Brown was again a crucial figure. The lifelong Wimbledon fan – who in 2002 was watching the club from the terraces – pulled off two saves in the shoot-out to help propel his side back into the big time.
It had been a frenetic afternoon of action with play switching from end to end as both sides sought to overcome their play-off nerves and lift the Bob Lord Trophy and with it claim promotion.
The Dons thought they had taken the lead early on when Kaid Mohamed cut in from the left and hit a low shot that Tyler palmed into the path of Kedwell. The striker slotted home but Wimbledon joy was short lived as an offside flag ruled out the goal.
After looking slightly nervous in the early exchanges, Brown settled down after pulling off a smart reflex save to tip away Claude Gnakpa's rising drive after the forward had cut in past Sam Hatton from the right flank.
And Gnakpa went close again in the 34th minute when he headed over when well placed from 10 yards, leaving the Dons defence relieved.
The second half was end-to-end but neither side was able to fashion many clear-cut chances until the dying minutes when, with legs tiring, extra space became available.
The lively James Mulley – on for Ricky Wellard – got in one curling effort that Mark Tyler did well to turn behind for a corner. And then Mulley did well to win a corner but Ismail Yakubu volleyed wide Hatton's deadball kick when well placed.
But with the clock ticking down in normal time there was a period of sustained pressure that left Wimbledon hearts in mouths, especially when James Walker appeared to be felled by Brown, but referee James Adcock waved play on and Matthew Barnes-Homer and Jake Howells were unable to turn home the loose ball.
Luton went closest to a goal in the final minute when Walker's header evaded Brown but rebounded into his grateful arms off the post.
And there was still time for Kedwell to win it with the last kick of normal time but Ed Asafu-Adaye managed to block his effort.
The first period of extra-time produced a Lawless piledriver that flew narrowly wide, but in the second period it was the Dons who piled on the pressure.
First Mulley failed to capitalise when fed in by Rashid Yussuff, and moments later Mohamed – playing on only because the Dons had used up their substitutions – fired an effort against the post.
And, with the clock ticking down, Dan Gleeson went close to turning the ball into his own net, before the unmarked Yakubu headed wide Hatton's subsequent corner.
And so to the nerve-jangling trauma of the penalty shoot out.
0-0 – Brown puts the Dons on the front foot, diving to his right to save Lawless's badly placed effort.
1-0 – Wimbledon player of the year Sam Hatton steps up and blasts home in confident style, high to Tyler's right.
1-1 – Luton captain George Pilkington comes forward and places an excellent spot kick into the roof of the net.
2-1 – Luke Moore replicates Pilkington's effort, placing the ball in the same location to keep the Dons' noses in front.
2-2 – Adam Newton places a third consecutive penalty in the same spot, sending Brown the wrong way in the process.
2-2 – A tired Mohamed sees his effort saved comfortably by Tyler to give Luton hope.
2-2 – Brown immediately snatches back the initiative, thrusting out an arm to claw away Walker's clipped penalty and get the Dons sniffing victory.
3-2 – Yakubu makes amends for his last-minute miss by confidently sending Tyler the wrong way, stroking the ball into the bottom corner of the net.
3-3 –Howells knows he has to score to keep Luton in it, and he fires high to Brown's left to give them hope.
4-3 – inspirational skipper Kedwell steps forward and blasts the ball to Tyler's right to secure victory for the Dons and spark scenes of jubilation.
Afterwards, emotional Wimbledon manager Terry Brown told the Non-League Paper: "Wimbledon are back in the Football League and this is for the fans who wouldn't give up after having their heart ripped out.
"To do this in under a decade is a fantastic achievement. We've created a little piece of history."
And Seb Brown, who had received penalty-saving tips from Dons legend Dave Beasant beforehand, told the same paper: "I'd done my research on where their main takers put their penalties.
"Walker was one player we noticed a tendency with: I held my dive for half a second and that was the one that made the difference."
Wimbledon supporters now have just a few weeks to wait before the Football League fixtures are released, and with it will come confirmation that the Dons have achieved what many considered to be an impossible mission.
Merton council will be organising a celebration of the club's achievements. Council leader Stephen Alambritis, who was at the game, said: "It's fantastic to see AFC Wimbledon back where they belong, in the Football League. We are in talks with the club to organise a celebration of their achievements with the details due to come on shortly."
Attendance: 18,195
Wimbledon: Brown, Hatton, Gwillim (Yakubu 61), Gregory (Minshull 94), Stuart, Johnson, Yussuff, Wellard (Mulley 67), Kedwell, Mohamed, L. Moore. Subs not used: Jolley, Turner.
Booked: Johnson 33, L. Moore 80, Minshull 108.
Luton Town: Tyler, Gleeson, Keane, G. Pilkington, Wilmott (Barnes-Homer 61), Kroca, Lawless, Howells, Asafu-Adjaye, Gnakpa (Newton 96), Walker. Subs not used: Graham, Crow, K. Pilkington.
Booked: Keane 45, Lawless 54.
Referee: James Adcock (Nottingham).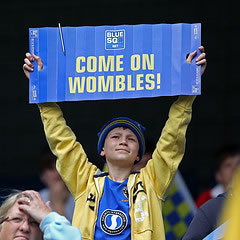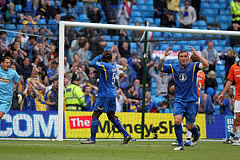 Pictured above are Dons before the penalties and Ismail Yakubu missing an extra time header.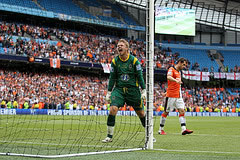 Pictured above are Seb Brown celebrating saving a penalty from Luton's Alex Lawless and a tired Kaid Mohammed seeing his penalty saved.
Report by Rob Crane. Pictures by Andy Nunn
Why not pay tribute to Terry Brown and his team on our forum?
May 21, 2011