Cost of seats for 2012 Games revealed
Ticket prices for the Olympic tennis events at Wimbledon's All England Club will start at £20 and rise to £225 for the best Centre Court seat for the Finals.
The prices were revealed along with the costs of tickets for all events taking place at the London 2012 games.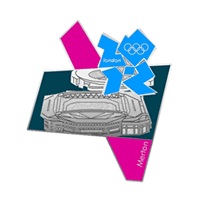 The £20 Wimbledon seats will apply to the Outer Courts during the Preliminary and Quarter Final matches.
There will also be 'special' prices available for young people and those aged over 60 on the Outer Courts, Court Number 1 and for the Preliminary Rounds on Centre Court.
The over-60s will pay £16 for their tickets and those aged 16 years or under will pay their age. Full details of the sessions available at these prices will be revealed in Spring 2011.
Otherwise, tickets on Court Number 1 start at £30, and rise to £95 for the best seat for the bronze medal competition. Centre Court prices also start at £30, with the cheapest seats on the Finals day costing £65.
The tickets go on sale in March 2011, with the tennis events scheduled to take place from Saturday July 28-Sunday August 5.
Tickets for the volleyball competition at nearby Earls Court also start at £20, rising to £185 for the top seats for the Final. There will also be 'special' prices for 16s and under as well as over 60s, but only for the Preliminary Rounds.
The event's top prices are reserved for the opening ceremony at the Olympic Stadium, which will cost up to £2,012. Tickets for stadium's athletics events range from £20 to £725.
October 15, 2010