Forum hears how area will benefit from the Games
Around 50 representatives from local businesses heard how the Wimbledon area will benefit when the Olympic Games come to London in 2012.
Not only is Wimbledon hosting the Games' tennis events, but local firms have the chance to compete for thousands of contract opportunities still on offer as the countdown continues.
Mike Mulvey, Chief Executive of the London Business Network, encouraged yesterday's Wimbledon Business Forum to apply for Olympic contract opportunities via the Compete For website.
He said small firms could really benefit, as more than 13% of companies which have already been offered work were companies with 10 or fewer employees.
As well as work directly related to the Olympic Games, he also encouraged business people to think about seeking opportunities around the competitors' training camps - for example, the South Africa team will be basing their training camp at St Mary's College, Twickenham.
Stephen Vaughan, managing director of Thomas Cook's London 2012 Partnership, told the meeting that his company had been appointed the sole package provider for the Games - offering tickets with accommodation.
Mr Vaughan is based at Sterling House in St George's Road, Wimbledon, and Thomas Cook hopes to start selling the packages in March/April 2011. He hopes prices will start at £99, but details have yet to be agreed.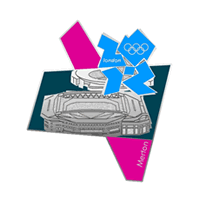 Tracey Francis, Wimbledon Town Centre manager, said areas hosting the Games had traditions of "dressing" themselves for the Olympics and wants local businesses to start thinking about how they would "dress" themselves in 2012.
September 9, 2010