Street marks the Diamond Jubilee
A Wimbledon Chase street which marked the Queen's Coronation in 1953 with a fantastic street party (see right), did the same again for the Diamond Jubilee.
This week's party was organised after former Oxford Avenue resident Mike Strange contacted wimbledonsw19.com as he wondered if the street was having a party to mark the Jubilee. He started a discussion thread on our forum.
Mike, who lived in Merton from 1947-1963, but now lives in Bedfordshire, also delivered a leaflet to every house in the street asking for party volunteers when he visited the area for the Queen's recent visit.
He was delighted when Amber Richards and Jo Kachia came forward and a family party was planned for Tuesday (June 5). As it was too late to organise a street closure, it was held on a grass area called "The Chase" at the end of the road.
Mike is pictured at the party with Amber (left) and Jo.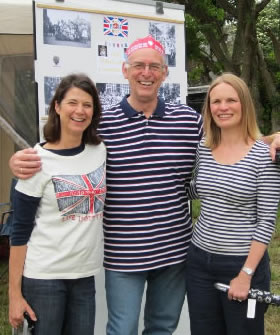 And here is Mike (pictured with his sister) from the Coronation celebrations in 1953: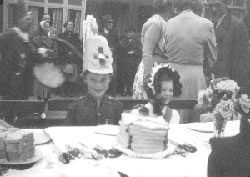 Here are the 2012 celebrations in full swing: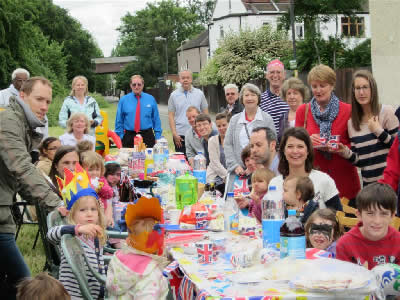 Mike was able to locate several people who attended the original party, with two able to attend - sisters Linda and Diana Burgess. They are pictured below with Mike (Linda is on the left).
The left-hand picture shows Mike with an image of Susan Beverton, who attended the original party. She now lives in Calagary, Canada, but a message from her was played over PA to the 2012 party-goers!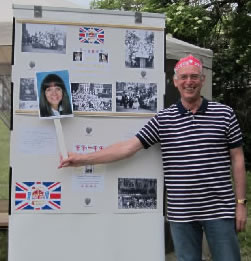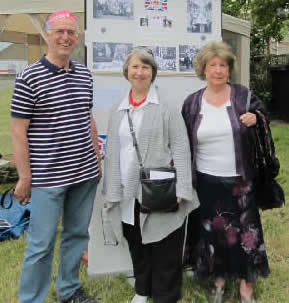 The 2012 event included a spread of food, apple-bobbing (with Callum and Amber Richards pictured having a go) and face-painting.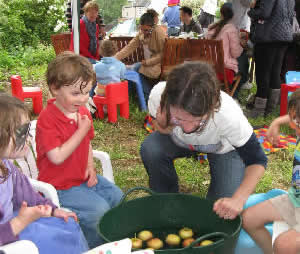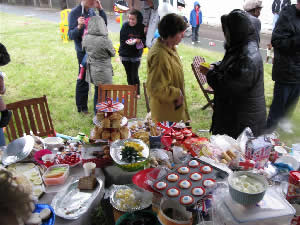 Mike said: "Thanks to everyone who provided such an excellent spread. The rain may have made things physically wet but one thing is certain it did not dampen our resolve to have fun and fun we had in bucket loads!
"Indeed it created a physical closeness that could be compared to the friendships and community bonding that formed here on this this day. Thanks to our Queen Elizabeth for being the shining example to us all that we shall carry on and we shall welcome progress and change but never forget our roots and sense of belonging here in Britain, in Merton and in Oxford Avenue."
Mike has been able to identify a number of people from the original line-up in 1953, as seen on this photo. If you can identify the blanks (see list below), get in touch to let us know. Email: editor@wimbledonsw19.com.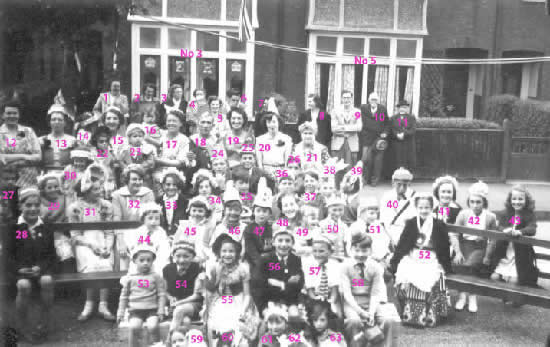 1
2
3
4
5
6
7
8 Beryl Strange
9 Jim Strange
10 ) possibly
11 ) Mr & Mrs Graveney
12
13 Lilian Beverton
14
15 Hilda Burgess
16
17
18 William (Bill) Burgess
19 Mrs Stokes
20 Diana Burgess
21 Mrs Nokes
22 Linette Parsons
23
24
25
26
27
28
29
30
31 Gillian Mariner
32 Jill Parsons
33
34 Patricia Parsons
35
36
37
38
39
40
41
42 Pam ????
43
44 Carol Ashton
45 Susan Beverton
46 Peter Barnes
47 Michael Strange
48 June Smith
49 Linda Burgess
50
51 (lived in Chaseside Ave)
52
53 Alan Barnett
54 Roger Barnett
55
56
57 Lesley Stokes
58
59 Heather Foster
60
61 Stuart Foster
62
63 Janet Strange
June 7, 2012