Hundreds left disappointed by route change
The Queen bought a ray of sunshine to Merton on Tuesday (May 15) when she visited the borough as part of her Diamond Jubilee celebrations.
She had lunch at St Mark's Church of England Academy in Mitcham as part of her tour of the United Kingdom, which runs until July 25.
But hundreds of people waiting on the streets (see below) for a glimpse of the royal party were left disappointed when her official car took a detour from the pre-announced route.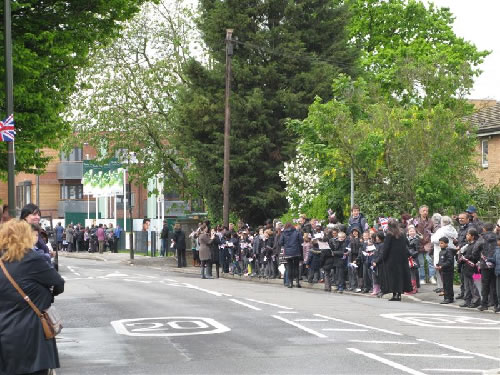 Instead of approaching the Acadamy via Cedars Avenue, where people were gathered with flags, the car carrying the Queen and the Duke of Edinburgh turned right from Manor Road and onto Tamworth Lane. Mike Strange took the picture below as she passed by.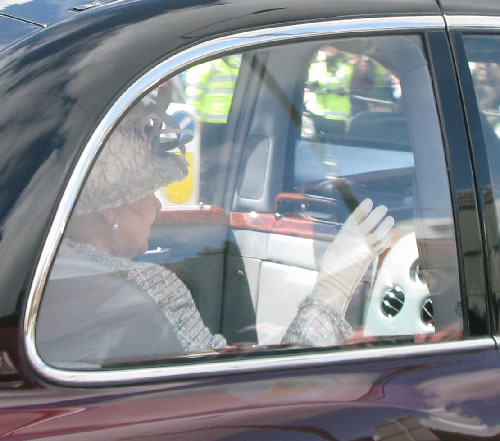 Once at St Mark's she enjoyed a 'South London Lunch', attended by the Mayors of 13 South London boroughs along with chosen community representatives in a celebration of local achievements.
The royal lunch menu was: Wild Salmon trout with asparagus, broad beans and citrus butter vinaigrette; minted English new potatoes Heritage carrots. Summer pudding with Kent red berries and cream. Coffee. Frog Haven Sauvignon Blanc 2010 and Mercurey Domaine Faiveley 2007. Water by Speyside Glenlivet.
A spokesman for Merton council said via Twitter: "Thanks everyone who made the Queen's visit special. The route of the royal car was planned with the Palace. We're looking into what happened."
A film is being made of the Queen's visit and what it meant to the people of Merton. Talk about how the visit will affected you and your community, your memories of the Queen's 60 years on the throne, or just what the Queen means to you. You can also send video clips of you taking part on the day, and of the Queen herself in Merton. Go to www.youtube.com/QueenVisitsMerton and post your video as a response to ours. Or you upload your video to YouTube and send us the link. Otherwise you can email your video to QueenVisitsMerton@mossie.com. The final film will be shown at the Wimbledon Odeon in the autumn.
What are you doing for Jubilee Day? Why not comment on our forum?
May 15, 2012