Tesco plans sixth store in Wimbledon
The historic Grove Tavern in South Wimbledon, which closed earlier this year, is set to become a Tesco Metro.
The 19th century pub, which is opposite South Wimbledon tube on the junction of Kingston Road and Morden Road, was a popular music and comedy venue.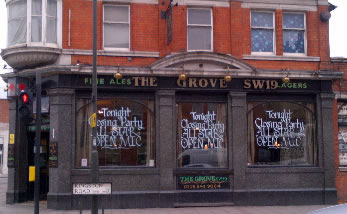 Earlier this year, developers were refused permission to demolish the landmark building (left) and replace it with a three-storey structure including a ground floor retail unit and nine flats.
But it was bought by a mystery owner and then closed on March 6. Immediately afterwards, the bar was removed.
Now Tesco have applied to Merton Borough Council to convert it into a Tesco Metro supermarket, although it is only yards from their store in Merton Road.
Sainsbury's have also already applied to open a mini-supermarket almost opposite the Grove Tavern.
Local resident Belinda Thomas said: "It is unbelievable that we are to get two more supermarkets in this supermarket-saturated area – I fear for the future of the independent Spiceways supermarket, but also feel so depressed that this could kill any attempt locally to get an independent organic co-operative foodstore up and running, which could really enliven Kingston Road. When compared with vibrant, exciting areas like Clapham, Balham or Dalston this area is so lacking."
Abbey Ward Conservative Councillor Henry Nelless added: "Both Diane Neil Mills and I are very disappointed to lose such an historic pub in our community. That Tesco have had to make so many applications to convert a period building into something fit for their purposes shows that it is not a suitable property for a retail shop.
"The application for illuminated signage will blight the building, the proposed changes to the doors and windows will fundamentally damage its appearance and the installation of an ATM on such a narrow pavement will cause a major obstruction to pedestrians.

"South Wimbledon does not need three mini supermarkets and we will oppose the conversion of this building. Should the applications be recommended for approval by planning officers, we will speak against their acceptance at the Planning Committee."
Do you want a supermarket? Why not comment on our forum?
August 8, 2012