The Brewery Tap serves its final pint
Nearly 180 years of history have come to an end with the closure of the popular Brewery Tap pub in Wimbledon Village.
The last orders bell was rung for the final time at the High Street pub on Sunday (September 18) after it was sold by owners Enterprise Inns.
The sale follows council approval being granted earlier this year for a controversial plan for the creation of two flats, involving a rear extension and conversion of the existing accommodation.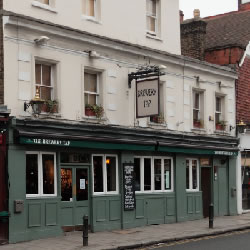 Regulars at the pub (left), run by resident managers John and Heather Grover for 17 years, had run a campaign to keep the pub as it was and collected a petition with around 1,000 signatures.
The local branch of the Campaign for Real Ale (CAMRA) also campaigned against the plans, as they removed the existing manager's accommodation. CAMRA was concerned for the long-term future of a pub without a resident landlord.
Their fears came true with the news that Enterprise had sold the property, and it is set to be turned into a shop with two upstairs flats.
A pub had existed on the site of the Brewery Tap since 1832. It was built next to a brewery, which burned down in the 19th century.
Manager John Grover was at the pub on Thursday (September 22) as the internal pub fittings were being stripped away. He said he was sorry to be leaving after 17 years.
Garry Mallen, son of the pub's leaseholder, said it was "another case of the local people not getting what they want".
Merton Council leader Stephen Alambritis, who spoke against the plans when they were discussed by the council planning committee in April, said: "Enterprise Inns have revealed that they are nothing more than a pure unadulterated property company by their actions in handing over the Brewery Tap so that it is turned into a shop and two flats.
"This makes me more resolute in calling on central government to give me the power to strengthen Merton's pub protection policy".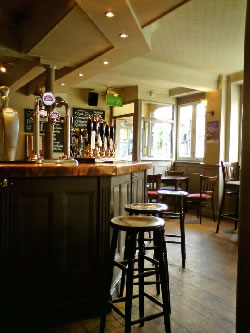 But Geoff Strawbridge, Pubs Officer for CAMRA's South West London branch, said: "The loss of the Brewery Tap is wholly down to the incompetence of Merton's planning department in implementing the council's pub protection policy."
He told council officers that change of use of the upper floors from a pub (for accommodation of tenants/staff) into a house (two self contained flats) fell within the council's pub protection policy (UDP Policy L16).
"Without permission for that change, it is inconceivable that agents would now be lining up ground floor tenants for a 'former pub'," he said.
Why not comment on our forum?
September 22, 2011