Nationwide route of the flame is revealed
The Olympic Torch passed through Wimbledon on its route to the London 2012 games on Monday July 23.
The flame passed through every London borough from July 20 to July 27 and reached Merton at 3.25pm on July 23.
For full picture coverage of Monday's event, including Sue Barker with the flame and the excited crowds: Click on this link.
It arrived in the borough from Sutton passed into the borough boundary at the Rosehill roundabout in Morden. The exact route and estimated timings in Merton were as follows:
15:21 Bishopsford Road A217
15:33 London Road A217
15:37 The Hub Sports Centre
16:00 London Road A217
16:08 Lower Green West A217
16:11 London Road A217
16:14 Raleigh Gardens A217
16:15 Western Road A236
16:26 Church Road A236
16:27 Christchurch Road A236
16:29 Christchurch Road A24
16:31 Priory Road A24
16:32 Merton High Street A238
16:37 Haydon's Road A218
16:49 Gap Road B235
16:56 Leopold Road
17:01 Arthur Road
17:07 St Mary's Road
17:07 Church Road
17:10 Somerset Road
17:10 Wimbledon Court Pathway
17:13 All England Lawn Tennis front doors
17:19 Promenade Steps
17:21 Henman Hill Steps
17:27 The Championship Wimbledon Garden Sign
17:27 Wimbledon pathway
17:29 Church Road

One of the torch bearers in Sutton will be Dean Parsons, AKA Haydon the Womble (left), the mascot of AFC Wimbledon. But he has been told he can't run in his mascot costume, and must use the official torch bearer's outfit.
The basic route in Merton is into Mitcham, before taking the Western Road towards Christchurch Road past the Tandem Centre at Colliers Wood. Once it reaches Merton High Street, the runner carrying the flame will turn left and go down the A238 until they reach the Haydons Road junction.
They will go right along Haydons Road, turn left at the Plough Lane junction into Gap Road. They then run along Gap Road into Leopold Road.
The flame will come close to Wimbledon Village when it turns into Arthur Road and then Church Road. It goes past the All England Lawn Tennis Club, host venue for the Olympic tennis tournament, before crossing into the borough of Wandsworth on Wimbledon Park Road at an estimated time of 5.32pm. One of the torch bearers in Wimbledon will be tennis star, Andy Murray. And in Mitcham it will be carried by Sue Barker.
Drivers have been advised to use alternative routes to avoid the Torch Relay, especially through Mitcham, Colliers Wood, South Wimbledon and Wimbledon Village.
Once it reaches Wandsworth, there will be an "evening celebration" on Tooting Bec Common. However the free tickets are only available to Wandsworth borough residents.

Nineteen torch bearers will carry the flame through Merton, although 13 of them are from London, some are from elsewhere in the UK, two are from America and one is from Rio de Janiero. They were all nominated for inspiring people in their community.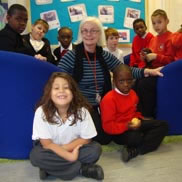 They include teacher Bernie Tetchner (left), a 62-year-old teacher in inner London primary schools for more than 30 years. She has been teacher for special needs and works in a Centre for Autism in Stockwell.

Whilst helping many people in their struggle with special needs she has been no stranger to struggles herself. In 2009 her eldest daughter's fiancé tragically died in a car accident and she has helped in her daughter's charity work for the road safety charity 'Break' raising thousands of pounds. Last November her husband and father to her three children died, and she has a pillar of strength for them.
By the time it reaches the Olympic Stadium for the opening ceremony, the flame will have travelled through 1,019 communities and come within 10 miles of 95% of the UK population on its 8,000 mile route.
There's also an Outdoor Arts Festival taking place in Wimbledon town centre on Saturday (July 21). For more information, click here.
Will the Olympics be good for Wimbledon? Why not comment on our forum?

March 19, 2012