Fun in Wimbledon at Outdoor Arts Festival
Merton's status as a host borough for the London 2012 was marked with an outdoor culture event in sunny Wimbledon town centre on Saturday (July 21).
It was part of The London 2012 Festival, which aims to add to the sporting celebrations by offering the biggest outdoor culture event the city has seen with 'The Mayor of London Presents'.
The fun on the Piazza included jazz group Brass Volcanoes; Vegetable Nannies, where children were kitted out with gloves and trowels and got stuck into the domestic duties of feeding, bathing, perambulating and other general T.L.C for baby vegetables; 3rdthought presented Invisible People – one-to one performances of a poem, story or joke told by an inter-generational troupe (left).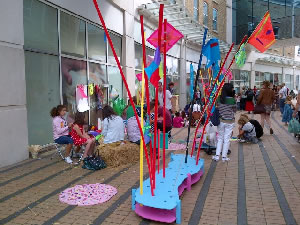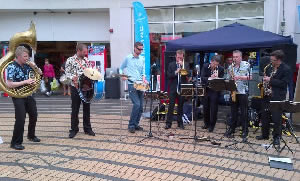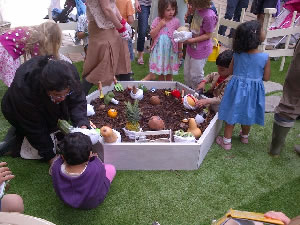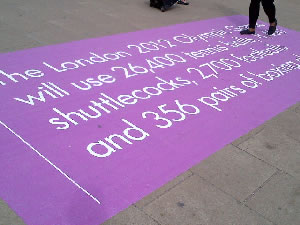 And local musicians will have a once-in-a-lifetime opportunity to take part in the largest closing event for the London 2012 Festival on September 9.
Musical performances held at Merton Abbey Mills will be one of hundreds of outdoor, community concerts taking place simultaneously across the country, making up the Bandstand Marathon.
Organisers are now looking for bands, groups, choirs and individual musicians to perform and help make the Bandstand Marathon a memorable and create a cultural legacy.
Merton's Cabinet member for community and culture, Councillor Nick Draper said: "As the Olympics end, so the Olympic Legacy begins. The Bandstand Marathon is more than part of the closing ceremony, it's looking ahead too. As an Olympic Borough, that's really important, and the performers will become a part of Merton's history. What an opportunity for local music acts!"
Katharine Lane, Superact's Associate Director, explains: "This is a fantastic opportunity for musicians to showcase their talent to their local community and feel they are playing a part in celebrating the London 2012 Olympic and Paralympic Games and the London 2012 Festival. The Bandstand Marathon aims to include as much live performance from as many cultures and communities as possible."
For more details about getting involved, please call the Bandstand Marathon team at Superact on 01823 332413 or visit the website www.bandstandmarathon.org.uk.
July 22, 2012