Shortage of HGV drivers blamed for failure to collect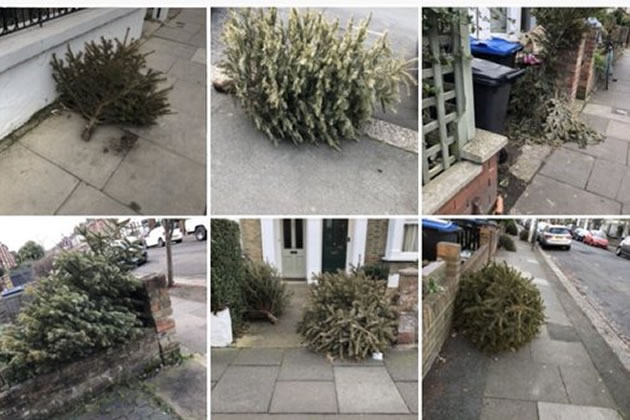 A sample of the uncollected trees in the area over the weekend. Picture: Twitter/Cllr Nigel Benbow
Christmas trees are still littering the streets of Wimbledon as locals have complained that their spruces were never collected.
And some have responded in disbelief after Merton Council said they must now be reported as fly tips to stand a chance of getting removed.
Now, since complaints flooded in online, the authority appears to have backtracked saying it has extended the tree collection until the end of the month.
But Trinity ward councillor Paul Kohler says this was always the case, according to the Merton Council website, and he is not sure why the advice to report a fly tip was issued.
Cllr Kohler's own tree has been in the front drive of his Wimbledon home since January 4.
He said: "It is terrible I don't know anyone who has had theirs taken away in Trinity.
"My daughter lives in Teddington and her Christmas tree went three weeks ago and ours is still outside as are all the ones in our street.
"We have complained and they initially said that it was too late but they have now said they will carry on collecting until the end of the month, which is what their website said before.
"It happens every year. It is easy to blame Veolia but we need to manage the contract properly, they are a big organisation and they will respond to political pressure from the administration."
Fed up locals have been complaining about the uncollected trees online for the past week.
One exasperated resident wrote: "I reported a Xmas tree left in my road & said that there were a dozen more further along. The first has gone but, you've guessed it, all the others remain. Huge inefficiency. If I have report one tree at a time, I will be here until Xmas."
While another said: "MANY pavements are difficult to walk in at the moment because they are STILL blocked by Christmas trees! When is that going to be done with, please?"
The council's latest response on Twitter reads, "Hello, thanks for flagging. We have extended our Christmas tree collection service until the end of the month. Please continue to leave out your Christmas tree and it should be collected by next week."
A spokesperson for Veolia who handle refuse and recycling for the council said, "Our services have been impacted by an ongoing national shortage of HGV drivers affecting the industry, with the shortage leading to a significant disruption to the garden waste service between December 27 and January 10.
"Since the service returned to full operation on January 10, our crews have been working hard to collect additional garden waste, as well as real Christmas trees.
"Residents are asked to continue to leave their real Christmas tree out for collection, and our teams will collect them on their next scheduled collection day."

Tara O'Connor, Local Democracy Reporter

January 31, 2022