Poor Passing And Handling Errors Costs Wimbledon RFC
---
Rugby result: Guildford 28 v Wimbledon 27
London & SE Premier League, 27 October

Losing lock Jack Cooke to injury during the pre-match warm-up and hooker Bradley Ugodulunwe after just 15 minutes was not an auspicious start for Wimbledon. But while the enforced changes clearly disrupted the pack they couldn't really account for the poor passing and handling errors that constantly gave hard-won possession back to a well-drilled Guildford side, who took full advantage of their visitor's generosity.

Having lost possession after a fine drive from the forwards, Wimbledon immediately found themselves 3 points down when Jordan slotted an easy conversion five minutes into the game. Lock Rob Louw powered over for a try ten minutes later after a rare piece of slick handling in the backs, and a fine conversion by fullback Freddie Hooper gave Dons a 3-7 lead. That lead however lasted just three minutes when a 5m lineout from a penalty by Wimbledon gave Guildford the platform to launch a wave of attacks on Don's line, before a long miss-pass gave Jordan a clear run-in and it was 8-7.

Having won a penalty at the first scrum, 20 minutes in, subsequent scrums proved tougher and the game see-sawed between the two 25's until, shortly before half time, Hooper put a huge kick to 5m from Guildford's line, Louw won the lineout, the pack drove forward and prop Jordan Saunders peeled off to score, Hooper again converting. He couldn't manage a third conversion though, after a similar move moments later ended with no. 8 Kane Alboni touching down. Dons still ended the half with a slightly flattering 8-19 lead.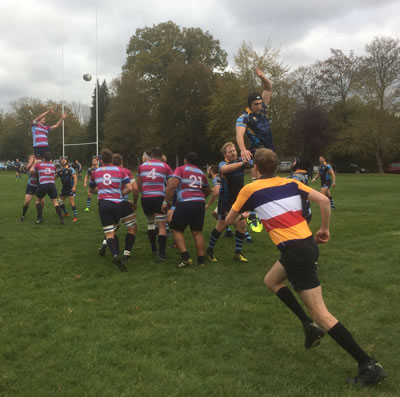 Picture: Lock Rob Louw with one of his many line-out takes

Guildford cut the lead to 13-18 ten minutes after the re-start having been gifted the ball following yet another fine forward drive from a lineout, where Louw reigned supreme throughout the match. Another good Dons drive on 25 minutes somehow ended with the ball in Guildford's hands and lock Nick Brown was bundled over to take the score to 18-19. Against the run play Hooper extended Don's lead to 18-22 with a well-struck penalty, then Wimbledon produced their best (and almost the only) move of the game; a Louw lineout win, a half-break by replacement centre Gav Tusani, quick ruck ball, a strong run and finely-timed pass from flanker Shawn Renwick, and Hooper dived in at the corner.

At 18-27 Dons looked to have escaped with another 5 point win, but in the last five minutes managed to concede a penalty - albeit an unlucky one – bang in front, and then, on the stroke of time, a try under the posts for lock Brown who burst through from a ruck 10m out, and Kyle Brown easily kicked the match-winning conversion. It was no more than they deserved.

Whilst Wimbledon at least left with a consolation two points, they'll know it should have been four, if not five. Hopefully they can make amends next week at home to Dorking.

October 29, 2018