Rugby result: Tunbridge Wells 8 – 52 Wimbledon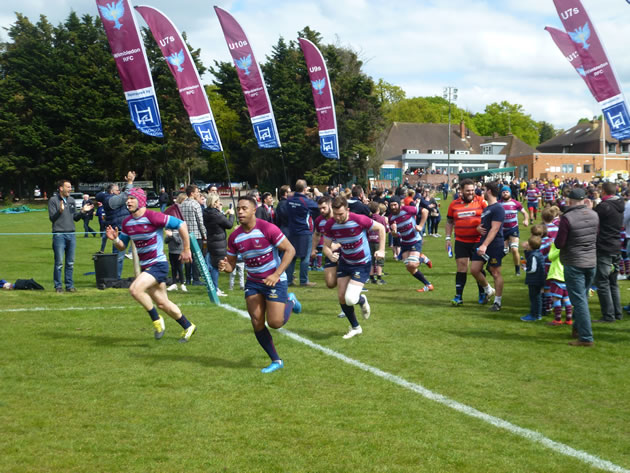 London Premier, 8 September

If Wimbledon keep coming up with performances like this, a return to National League 2 looks very much on the cards. Despite a number of enforced changes from last week's winning team Wimbledon overwhelmed Tunbridge Wells, 4th placed in this league last season.
That said, after turning round 3-45 down, TW made a spirited comeback in the second half, with territorial advantage over a Wimbledon side that had taken its foot of the gas after the break, and created a deserved consolation try for flanker Talbot in the dying minutes.
From the outset it was apparent that the TW pack were no match for Wimbledon's in the set scrums and driving mauls. It was clear too, when after just four minutes wing Phil Chesters sprinted and weaved his way 75m almost to TW's line, that Dons' backs were going to prove a real handful – especially as centre Toby White neatly gathered the ball and went over for try no.1. After Harry Tabb's touchline conversion a series of penalties ultimately gave TW a pot at goal which no.10 Reynolds converted easily.
Two minutes later flanker Jack Flanagan got Dons' second try after bursting through two defenders and Tabb's conversion made it 3-14. The next 25 minutes yielded five sparkling tries for Wimbledon – and with fewer penalties and a little less white line fever it could have been more. First some slick handling by the backs led to a try well taken by Tabb. Unfortunately he was injured in the process, resulting in new boy Freddie Hooper coming on as fullback and Ben Hough moving to no.10.
A terrible Dons' lineout on their own 22 so nearly let TW in, but Dons' defence proved impenetratable, as typified by wing Josh Charles twice taking his man out with try-saving tackles. A length-of-the-field by White almost brought Dons' fourth try, as did a similar run by Hough moments later, but both were stopped just short and it was left to Dons' scrimmaging from 10m out to set up no.8 Kane Alboni to power over the line. Another lovely run by Hough and an offload to White gave the centre try no.5, well converted by Hooper to take the score to 3-31.
Then, from broken play after yet another Hough break, Flanagan was on hand again to burst over for his second try, Hooper adding his second conversion. His third took the score to 3-45 after Charles had rounded off some fine back play set off by a typical tackle-busting break by hooker Bradley Ugodulunwa.
It was 15 minutes into the second half before Wimbledon hit the 50 point mark, with a lovely solo effort from Hough earning him a well-earned try – and Hooper again came good with the conversion from near touch. Then Wimbledon eased off and spent much of the remainder of the match defending, and doing it extremely well, until finally their wall was breached to give the home supporters something to cheer at last.
Although very early in the season, it's still nice to see Wimbledon heading the league table, a position they will want to consolidate when they take on visitors Bedford Athletic next week.

September 10, 2018