Dons celebrate promotion with Merton Council
Wimbledon's promotion to the Football League was marked with a party at Merton's Civic Centre.
Manager Terry Brown, the jubilant players, chief executive Erik Samuelson and a host of the club's volunteer workers were welcomed by council officials at the event on Thursday July 7.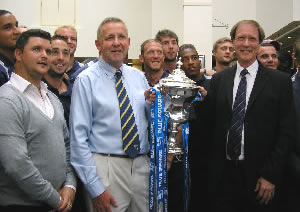 Councillor Stephen Alambritis, leader of Merton Borough Council, presented the club with two special bricks - one for the club's current ground, Kingsmeadow, and another to be the first brick to be laid at the club's potential new ground when they return to the borough.
He said: "The future is bright for AFC Wimbledon. I look forward to continuing to work with them as we do all we can to facilitate their search for a ground in Merton - their rightful home".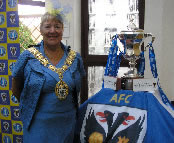 Mayor of Merton, Councillor Gilli Lewis-Lavender (left), said: "AFC Wimbledon should be proud of what they have achieved in just nine years. I think big and I like to think that we will be welcoming them back here with the FA Cup."
Erik Samuelson (pictured above right with the Bob Lord Trophy) said: "Most of the time we are running so fast we don't have time to stop and think: 'what did we do?' Our promotion to League Two is an amazing achievement and testament to the dedication of our fans.
"We expect to be challenging again in the league we are in. I am looking forward to the next season".
July 8, 2011