Creativity Returns To Earn Wimbledon RFC A Last-Gasp Win
---
Rugby result: Wimbledon 21 v Westcliff 19
London & SE Premier League, 26 January

What a strange game this was…two minutes in Wimbledon were 7-0 up after James Doe's neat chip and re-gather set off a move that showed the creativity that was missing in last week's defeat, and finished with a lovely try by scrum half Ben Newman and excellent conversion by centre Freddie Hooper.

Sixty minutes later, at 7-19 down, Wimbledon faced defeat. Suddenly though, after a turnover by hooker Bradley Ugodulunwa – who tackled non-stop throughout – Dons' passion and will to win re-surfaced and two fine converted tries later they came home winners over a disciplined and fiercely competitive Westcliff.

After conceding Dons' opening try, the visitors began to show why they've been 1st, 2nd or 3rd in the league all season. Their forwards, led by the impressive no.8 Johnny Smith, drove hard into Dons' defence and, unlike after Dons' equally powerful drives, they kept possession and, aided by a strong tailwind, put Wimbledon under a lot of pressure.

After 15 minutes, with the help of a slightly fortuitous bounce for their wing, Smith charged over for what was to be the first of his three tries. Fullback Bannister's conversion levelled the scores.

The wind, combined with some sloppy Wimbledon handling and too many turnovers, kept Westcliff in the driving seat for much of the half, despite Dons' strong scrimmaging and lineout work, and shortly before the interval, after minutes of continuous pressure on Don's goal line, Smith got his second, as did Bannister.

The scene was repeated at the other end of the pitch almost from the re-start and Dons found themselves 7-19 down. Ten minutes later Hooper had the chance to reduce the deficit though a long range penalty but the ball hit the post, then the wind took a second penalty kick into touch in goal.

Much of the play echoed that of the first half, with Don's not having their best ball-handling day, but entering the final quarter however, things changed rapidly. Another excellent Wimbledon scrum drove the opposition back close to their goal line, quick ball flew through the backs hands until wing Tom Milner, running a really good line, cut through the defence to score beneath the posts.

With less than ten minutes to play another good drive by the Wimbledon pack set the backs in motion again; the ball moved quickly wide and Hooper spotted a gap to run through and score in the corner. His superb kick from touch in the gusty wind gave Wimbledon the two point lead that they were able to cling on to until the end of a pulsating game - one that took them back into second place, just two points behind Sutton & Epsom.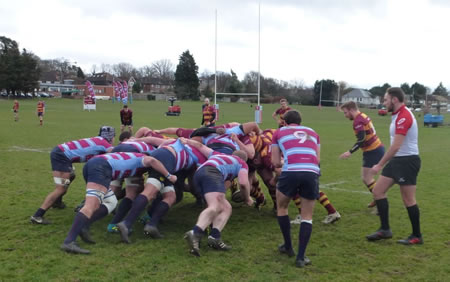 After a week's break Wimbledon are next in action on February, away to Chingford.

January 28, 2019