Rugby result: Wimbledon 23 v 29 Sutton & Epsom
London & SE Premier League, 30 March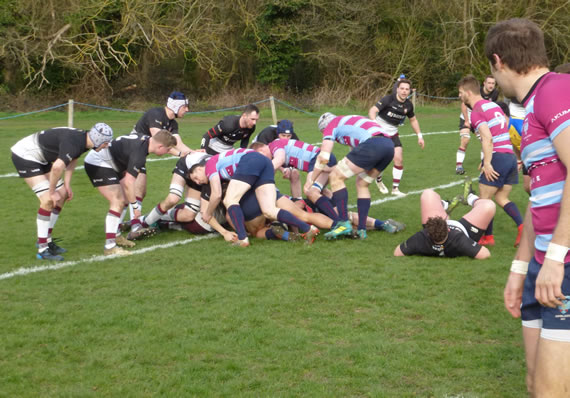 13-7 ahead at the interval Wimbledon looked as though they might be about avenge their defeat by Sutton & Epsom back in December.
Despite a fine try-saving tackle by wing Phil Chesters early in the game the visitors conjured up a strong move from the ensuing scrum and went ahead with a try by prop Theo, converted by Knight. For the next 15 minutes Sutton kept the majority of possession and only gritty defence by Dons prevented their slick back line from adding to the score.
But gradually Dons started to force their way back into the game, first clawing back three points from a well-struck penalty by fullback James Moffat then, as half time approached, an excellent scrum on Sutton's 22 produced quick ball for scrum half Aaron Booth and after two crisp passes wing Chesters raced into the corner to score. Moffat's inch-perfect kick from the touchline added the two points.
The opening few minutes of the second half though, were a disaster for Wimbledon. Almost from the re-start they shipped two tries as first Knight then centre See cut through a disorganised Dons'defence and with Knght's two conversions it was suddenly 13-21. Injuries to lock Alex Campbell and centre Toby White, to add to one earlier to flanker Rich Ridley, added to their woes as the enforced changes severely disrupted their rythym.
Moffat took Don's score to 16 with another good penalty conversion despite Sutton's growing confidence and control of the game which almost immediately yielded another converted try, this time through a drive from a 5m lineout, touched down by Drye.
On the increasingly rare occasion's Dons got the ball they were able to make a couple good breaks only Sutton to break down the move close to their line – until that is, hooler Jesse Muir rounded off the back's best move of the day to score out wide. Moffat's second excellent touchline conversion gave Wimbledon a glimmer of hope at 23-31, but it was snuffed out from the re-start with a try by London. Moments later they added a penalty conversion from in front of the posts and the game was as good as over.
But all is not lost for Wimbledon; they remain second equal in the league with Westcliff and next week's opponents, Tring, are seven points behind in 4th place. After that away game Dons have to travel again for their last match of the season against 5th placed Hertford, Not an easy run-in, but certainly not beyond this Wimbledon team.
April 12, 2019