Scoreline Harsh On Wimbledon RFC Against Canterbury
---
Wimbledon 7 v Canterbury 22
There are instances of "if only" in every match, but in Saturday's 7-22 defeat by 4th placed Canterbury there were more than usual for Wimbledon to reflect on: if only their lineout had functioned; if only a couple of clear overlaps hadn't been ignored; if only the final pass hadn't too often gone astray; and, looking forward, if only injury had not robbed the squad of yet three more players. No. 8 Tom Edwards lasted less than a minute before sustaining a nasty hand injury; centre Rhys Morgan limped off after 20 minutes and fellow centre Ben Hough – also hand – had to retire in the second half.
But it was the lineout that cost Wimbledon dear, enabling Canterbury to get the better possession and territory throughout the first half; the fact that the visitors could muster only three points by half time, through a penalty by no.10 Best, was of great credit to Dons' defence.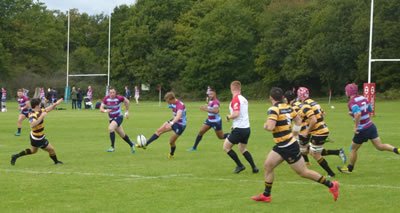 In the second half, despite launching several promising attacks, the desperate search to achieve the first win of the season caused too many rushes of blood to Wimbledon heads and good opportunities to score were wasted – until, that is, in the final minutes, captain Dylan Flashman was bundled over by his pack for a deserved try, converted by James Doe. But by then it was too late, Canterbury having run in three tries, two converted by Best. Two of those tries were as a direct consequence of lost lineouts and the third a cruel (for Wimbledon), but fortuitous (for Canterbury) bounce into the arms of the Canterbury centre.
In the end, Canterbury deserved their win, although the scoreline was a bit harsh on Wimbledon. And if only a couple of opportunities had been grabbed by Dons, the result could have been different altogether. Next week, away to Clifton, Dons will be looking to make the most of the opportunities they create.
October 13, 2017