Rugby result: Wimbledon 38 v Brentwood 22
London & SE Premier League, 9 March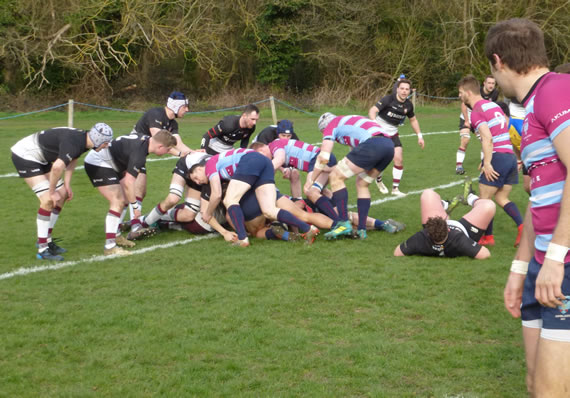 Despite a less than perfect performance Wimbledon joined local rivals Sutton & Epsom at the top of the league with a try bonus point 38-22 win over Brentwood, aided by Sutton's surprising defeat to Guildford. The below par performance was due in part to the absence of most of the regular pack, making life tough in the set scrums.
The individual performances however, made up for the lack of cohesion: flanher Niall MacSweeney excelled at lock alongside captain Alex Campbell (who, as ever led by example) while fellow flanker Joe Daley looked anything but a makeshift hooker. Prop James Gillespie also made his presence felt throughout.
The settled back line had no excuse for their constant inaccurate passing and poor handling, but more than compensated for their wasted opportunities by scoring some excellent tries and, along with the forwards, defending well against a lively and determined Brentwood.
Wimbledon barely touched the ball in the opening ten minutes and Brentwood deservedly went ahead with a pushover try in the corner. Dons hit straight back though; they won turnover ball on the visitor's 22, scrum half Campbell Musson went to the blind side and wing Phil Chesters raced in to level the score. They went ahead soon after through a lovely try by centre Toby White, who outpaced the defence from the halfway line to run in beneath the posts, ensuring Freddie Hooper.added the two points to make it 12-5.
Another Brentwood pushover try, touched down by no;8 Vogle, after a soft Wimbledon penalty, soon narrowed the gap - but not for long, as Dons' wing Tom Milner bamboozled the entire Brentwood team as he scythed through them to score a superb try. Hooper's simple conversion made it 19-10.
Regrettably a total mix-up by Dons at the re-start, gave Brentwood's flanker Killington the simplest of tries, converted by Burt. Given the number of errors and resulting lack of possession Wimbledon were perhaps a touch lucky to reach half-time 19-10 ahead.
Fresh legs in the second half seemed to re-invigorate the Wimbledon scrum, in the shape of hooker Jesse Muir and no.8 Kane Alboni, making a welcome return after a long injury absence. From the re-start they piled on the pressure, ultimately driving over for Muir to touch down and Hooper to convert. They should have repeated the exercise soon after, but despite three consecutive 5m scrum penalties, Brentwood got away with it, and mounted a wave of attacks of their own, deep in Dons' half.
The defence held and then Dons went into attack mode again, through a good backs move, almost spoiled close to the line, but ultimately seeing Hooper score in the corner.. Then fullback Ben Hough started another from his own goal line which finishedf with a nice jinking run from Aaron Booth, on for the injured Musson. Hooper's conversion took the lead to 36-17, before wing Watkinson added an unconverted consolation try for Brentwood just before the final whistle.
Wimbledon take a breather next week before taking on Sidcup away on March 23.

March 11, 2019