Get prepared for the local road closures
Transport for London (TfL) is advising drivers in and around Wimbledon to plan ahead for Sunday (August 2) for the return of Prudential RideLondon, the annual world class festival of cycling.
A number of road closures, essential to the operation of the event, will be in place in Merton on Sunday (August 2) from 7am. From around 3pm roads along the route in the area will be opened in phases once the event has passed and it is safe to do so. All roads in the area are expected to be open by 7.30pm. A number of bridges in the area will be closed until the evening, including Chiswick Bridge and Putney Bridge.
Road closures will impact more than the immediate route of the event. To avoid disruption drivers are advised, wherever possible, to avoid areas near the event routes and to ensure more time for journeys.
Tube and rail, walking and cycling will be the best ways to get around London, although some stations will busier than usual close to events.
Buses around the events will be on diversion or will finish early due to road closures. For more information on travel disruption and advice, please visit tfl.gov.uk/prudentialridelondon and PrudentialRideLondon.co.uk.
Roads in Merton affected by the event include:
· Portsmouth Road
· High Street Kingston (westbound)
· Clarence Street (westbound)
· Horse Fair (westbound)
· Wood Street (westbound)
· Fairfield North (westbound)
· London Road (westbound)
· Coombe Road
· Coombe Lane West
· Coombe Lane
· Worple Road
· Wimbledon Hill Road
· High Street Wimbledon
· Parkside
· Wimbledon Parkside
· Tibbet's Corner
· Tibbet's Ride
· Putney Hill
· Putney High Street
· Putney Bridge
On Saturday 1 August, a number of road closures will be in place in central London for RideLondon FreeCycle and other cycling events. Roads will be closed from 6am until around 6pm. Waterloo Bridge will be closed, however all other London river crossings will remain open.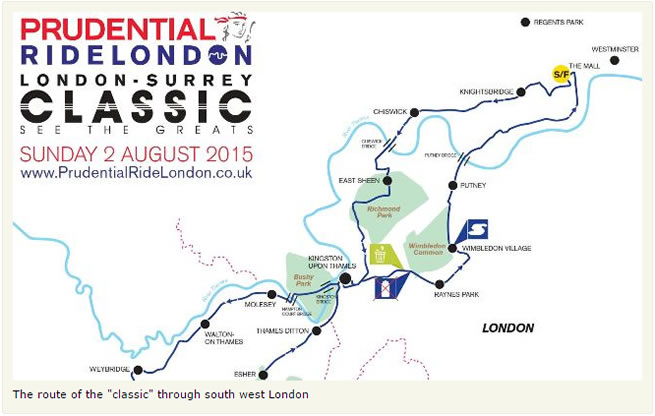 July 29, 2015