Group united by plans for Emma Hamilton site
Residents concerned about potential redvelopment on a pub site in Wimbledon Chase are setting up a local residents' association.

Developers had put together a scheme for 56 flats and up to four shops on the Emma Hamilton pub site (left) on Kingston Road.
Stadium Capital Holdings have yet to submit their plans to Merton Borough Council, and held an exhibition for residents in March.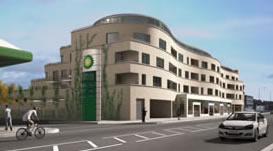 The plans then on display (left) were of a ground floor retail development, with 56 one, two and three-bedroom flats, with some affordable housing.
But local residents expressed concern about issues including parking as well as the look and size of the potential development.
A meeting of concerned residents was held, with a view to establishing a Wimbledon Chase Residents' Association.
Grahame Darnell, from nearby Oxford Avenue, said: "Our focus is to try and influence their plans and any planning applications that are submitted until they come up with something a bit more sensible.
"Although there is a huge amount of concern locally that these developers are going to negatively impact our community, what has been refreshing is the way that all sorts of people who's paths would not normally cross have come together to unite on this issue. It really is a great community in this little corner of Wimbledon so I hope we have some success in minimising the detrimental impact of the development."
A spokesman for the developers said they were continuing to review the proposals following the exhibition and discussions with planning officers. A revised scheme is being devised.
Why not comment on the forum thread on the Emma Hamilton site?

July 15, 2011