Local residents set to get together
Plans to set up a local residents' association in Wimbledon Chase are moving forward.

The group got together after developers unveiled a scheme for 56 flats and up to four shops on the Emma Hamilton pub site (left) on Kingston Road.
Stadium Capital Holdings have yet to submit their plans to Merton Borough Council, and held an exhibition for residents in March.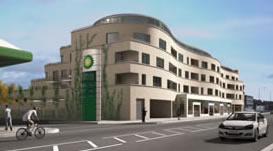 The plans then on display (left) were of a ground floor retail development, with 56 one, two and three-bedroom flats, with some affordable housing.
A number of residents concerned about the plans have met and are now moving forward with establishing a Wimbledon Chase Residents' Association.
At a recent meeting they agreed a number of key points, including the process for agreeing street representatives as well as looking for volunteers for a formalised group. They have also had advice from Merton Park Residents' Association.
Grahame Darnell, from Oxford Avenue, said: "The meeting was very positive. We are moving forward as an 'action group' for the time being, but will move to formalise into a proper residents' committee in due course."
Why not comment on the forum thread on the Emma Hamilton site?

August 1, 2011