Rugby result: Tring 12 v Wimbledon 12
London & SE Premier League, 13 April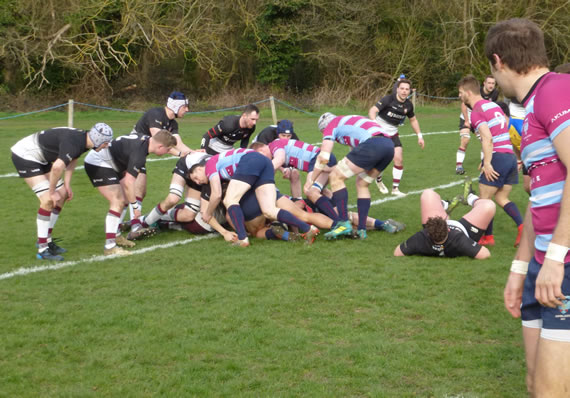 This was a disappointing end to what has been a pretty good season for the Wimbledon squad, albeit with a few ups (Tunbridge Wells away, for example) and downs (Sutton & Epsom away).
Going into the game in second place but tied on points with Westcliff they needed a four-try bonus point win to guarantee a play-off place (or, if Sutton & Epsom were to lose, to win the league). As it turned out, Sutton won, Westcliff got the five points and Wimbledon just two from a 12-12 draw at fourth-placed Tring.
They so nearly got the result they needed; with the pack again dominant in the scrum and locks Alex Campbell and Rob Louw winning good lineout ball, the majority of play, particularly in the first half, took place in Tring territory, and three times they earned a 5m lineout, only for Tring's defence to deny them a score. Then a missed penalty kick for touch was taken by Tring's right wing, the ball spread quickly acrossfield and centre Sam Burns outpaced a disorganised Dons' defence and, against the run of play, the home team took a 5-0 ahead, which they held until half-time.
Wimbledon's back line has been far from settled all season and so it looked on Saturday; a promising run by Louw early in the second half came to nothing as poor passing handed over possession – not for the first or last time in the match. But eventually a penalty was quickly taken by scrum half Aaron Booth and two passes later reached fullback Phil Chesters who rounded his man and raced in to score in the corner.
With news coming in of the two other games that could determine Dons' fate this season it became clear that they needed not only to win but to score three more tries in the remaining 20 minutes. But it was Tring who got the next try when Burns took the scoring pass after a good break by no.10 Ben Criddle, whose conversion put the home team 12-5 ahead.
Try as they might, Wimbledon simply could not break Tring's defence until, just a minute from full time, replacement centre Gavin Tusini made a strong run into the opposition's 22, quick ball from the tackle on him reached Josh Charles and the winger cut inside and sliced through to touch down for a deserved try. With the clock showing 81 minutes, stand-off James Moffat had a 35m pressure kick to level the scores, and he did just that, comfortably.
Wimbledon will rue the missed opportunities but can take some consolation from finishing a very close third in what has been a tough league. And they've got the summer now to work on how they're going to finish next season on top.
April 16, 2019