Rugby result: Sidcup 21 v Wimbledon 20
London & SE Premier League, 23 March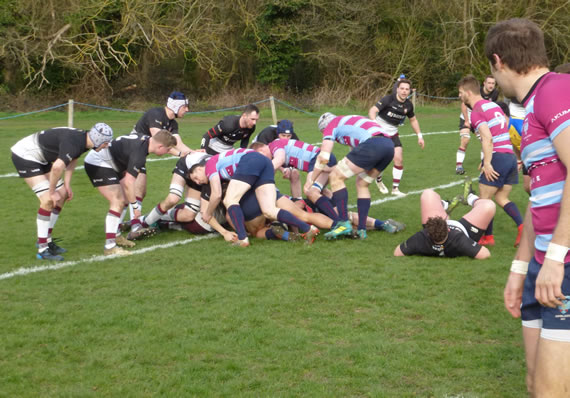 This was a classic 'if only' match for Wimbledon, four tries scored gaining a try bonus point but four conversions missed and a reasonably straight penalty as well, but crucially a Sidcup kicker who missed only once and bought his team a valuable victory.
The pitch was heavily sanded and this also took time to adapt to, but that is part of the contest as well. Sidcup opened the scoring on eight minutes when Wimbledon failed to release a tackled player, the kick was in front and 22 metres out, no problem for Sidcup's outside half Josh Twyford, and ten minutes later winger Elliot Simmons scored their first try wide out, after a perfectly aimed cross-kick this time Twyford missed his conversion.
Seven minutes later Sidcup scored again when after a period of pressure their lock Jack Dutton was driven over, Twyford converted and at 15 – 0 down Wimbledon could hardly exert any territory or possession. But on the stroke of halftime Wimbledon mounted an attack and after play went across the pitch Wimbledon's wing Kieran Morris was over near the corner, centre Freddie Hooper was unable to convert but at 15 – 5 behind Wimbledon were not out of the match.
Wimbledon made changes and Rob Louw went on at lock after returning from injury, the lineout improved as did the power in the scrums, earlier Sidcup had lost a flanker to a yellow card for a high tackle on Wimbledon flanker Ted Bunn which helped Wimbledon.
Bunn was replaced shortly afterwards by Niall MacSweeney returning, he had been his usual self in the thick of the action. The penalty for the high tackle was a kick to the corner, the lineout worked well and Wimbledon no.8 Kane Alboni, again another player returning from injury, worked his way over covered in Sidcup tacklers. But again, no conversion followed.
Wimbledon gifted Sidcup a penalty straight in front to take their lead to 18 – 10. Sensing a slowing in the Sidcup effort, in the 65th minute Wimbledon swept the ball across the field and Phil Chesters at full back scored wide out, again no conversion but with time running out Wimbledon's fitness was having an effect.
But it came to nothing when a knock-on when trying to intercept a pass in the centre gave Twyford an easy chance that he did not miss, at 21 – 15 and time running out Wimbledon had another multi-phased attack that finally saw replacement Matt Gilbert over in the right hand corner, but again a conversion to win was missed.
To be philosophical Wimbledon in the past have come away from Sidcup with one-point victories, this time it was the other way. Much more positive is the likely return from injury of other players for the final matches.
Next Saturday Wimbledon will be at home, against top of the league table Sutton & Epsom, with a 3pm kick-off.

March 27, 2019