Shelford Whitewash For Wimbledon RFC
---
Rugby result: Wimbledon 74 v Shelford 0
London & SE Premier League, 12 January

Bottom of the table Shelford may not have provided the toughest opposition, but that does not detract from an excellent Wimbledon performance, as indicated by the 74-0 scoreline.

All eight forwards – who'd never played as a unit before – had a field day, driving into the opposition and gaining ground each time, before off-loading neatly to any one of several supporting players.

The backs looked like scoring almost every time they got the ball and just once did Shelford breach their defence, only for Dons' wing Tom Milner to spoil their moment of glory with a well-anticipated interception and a sprint the length of the field to score his team's tenth try, still with seven minutes remaining.

After a slowish start by Wimbledon, while the players got to know each other, their first try came 11 minutes in, when prop Jordan Saunders, running a great angle, took a perfectly timed pass from the base of a ruck by scrum half Ed Askew to crash over the line. Although play hardly left Shelford's half it was another 15 minutes before Saunders got his second try in identical circumstances, Freddie Hooper converting from out wide. He converted his own try too ten minutes later – this time from the touch line - after a lovely run and pass by skipper Alex Campbell.

Moments later replacement wing Josh Charles' well-taken try in the corner, stemming from a good break by hooker Dave Wayman, took the score to 24-0. Dons squeezed in one more before half time when, after a dozen or so phases, no.8 Mark Scott reached over the line from a ruck to touch down for a thoroughly well deserved try. Another fine conversion from Hooper took the half time score to 31-0.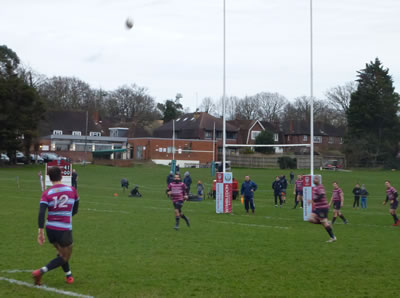 12 minutes after the re-start prop Bertie Haskins - as ever, closely following play – was on the spot to pick and dive over for try number six. Wing Phil Chesters showed his pace to run in number seven and Askew rounded off a lovely handling move by Scott and Haskins to claim number eight. Hooper's conversion made it 48-0. Saunders then completed his hat-trick, this time with a bit of support from the back five to help him over and make it 53-0. Hooper then converted Milner's first try (the team's tenth) to make it 60-0, as well as Milner's second following a lovely switch by Chesters to take it to 67-0. Flanker Joe Dale made the final try look easy by claiming a Shelford lineout overthrow and barging aside two defenders to take the score over 70. Hooper did the necessary for the final scoreline.


A very satisfactory day all round, marred only by the injuries to no.10 James Moffat, prop Saunders, Fullback/stand-off Matt Gilbert and hooker Wayman all of which hopefully will take less recovery time than those sustained last week by the captain, Josh Bayford, and back row Kane Alboni.
Next week Dons travel to CS Stags with the aim of avenging the one point defeat at their hands back in September.

January 13, 2019