Last chance to comment on Local Care Centre Plans
Plans for a Local Care Centre to be built on the Nelson Hospital site in Merton Park are going on display this weekend.
The plans are for:
construction of a new two/three storey (5,600 square metre) local care centre (LCC) and new access route with 68 car parking spaces to the rear (26 for patients);
construction of a new two/three storey assisted living care development (51 units) at the western end of the site, with associated communal facilities, dedicated vehicle access and 21 car parking spaces.
They will be on view at the John Innes Society Coach House, 1a Melrose Road, in Merton Park, on Friday March 16 from 7.30pm-9.30pm and on Saturday March 17 from 10am to 4pm.
While the LCC will retain the existing Pavilions, the care facility (pictured below) will involve demolition of all other existing buildings on the Kingston Road site.

Other alterations include new landscaping to Merton Rush, Blakesley Walk and Kingston Road. The main entrance of the LCC will look like this: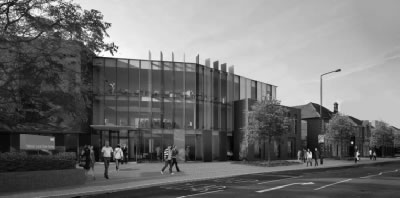 The initial redevelopment plans were shown at two public meetings at the hospital last year, followed by an 'open evening'. Fears were then expressed about lack of parking and potential traffic problems.
The final chance to comment on the scheme is Wednesday March 21 and the public display of the plans have been organised by the Merton Park Ward Residents' Assocation as they not easy to read on-line.
Local borough councillor John Sergeant said: "From the few residents' comments so far received, concerns appear to be wide-ranging. The plans for the Local Care Centre itself are basically sound but does it fit well within its environment?
"Several residents are highlighting issues such as the potential inadequacy of parking facilities, the impact of the proposed MacCarthy & Stone care home to be built on the current car park area and the impact on the Merton Rush and traffic flows into and out of Watery Lane."

Comments should be sent to the Planning Officer, Jean Bennett, by email on jean.bennett@merton.gov.uk or by post. For comments to be formally accepted you must give your name and address and quote the Planning Reference Number, 12/P0418.

What do you think? Why not comment on our forum?
March 13, 2012