Local councillors resign from their group
Four Conservative Councillors have resigned from their group within a week of electing their third leader inside two months.
And on Friday (May 17) another was suspended from the Conservative Party and had the Group whip removed from him.
Councillor Suzanne Evans, who represents the Wimbledon Hillside ward, Councillor Richard Hilton (Lower Morden), Councillor Rod Scott (Raynes Park) and Councillor Linda Scott (Raynes Park) all resigned on Wednesday (May 15).

Earlier in the week the Conservative group elected Wimbledon Park Councillor Oonagh Moulton (left) as their new leader after Councillor Hilton resigned.
He was only elected in March after the resignation of Councillor Debbie Shears, who had been their leader since 2010.
The group of four, plus two other Conservative councillors, refused to vote for the proposed new Mayor - Conservative Councillor Krystal Miller, who represent's Wimbledon's Trinity ward.
Councillor Hilton said that London Council's guidance states the Mayor of Merton must be politically impartial yet is Deputy Chairman of Wimbledon Tories.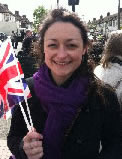 Councillor Evans said Councillor Miller (left) had played a part in dividing the local Conservative group. She said on Twitter: "Just made one of the most difficult decisions of my life to resign Conservative whip and challenge official Mayoral nomination. I remain totally committed to my residents."
The Mayor is traditionally elected unopposed, but at the Mayor-making ceremony on Wednesday, the following did not vote for Councillor Miller: Councillor Suzanne Evans, Councillor Richard Hilton, Councillor Rod Scott, Councillor Linda Scott, Councillor Chris Edge and Councillor Richard Chellew.
Councillor Moulton said afterwards: "I am delighted to be elected Leader of the Merton Conservative Group and to join with Members across the Council at our Annual Meeting to welcome our new Conservative Mayor, Councillor Krystal Miller who has the full support of my Group.
"I am extremely disappointed that after conciliatory discussions four colleagues have walked out and resigned from the Conservative Group in such a public and melodramatic manner for what appears to be selfish political ambition. It doesn't deflect me or my Group.
"I was elected Leader of Merton Conservative Group on a clear message of support for lower Council tax and am clear that we will deliver the maximum benefit for Merton's residents.
"I shall be working closely with the Member of Parliament, Stephen Hammond MP and GLA Member Richard Tracey AM to defeat Labour in the 2014 local elections and to deliver a Conservative led administration for Merton Council."
On Friday she announced that Councillor Chris Edge had been suspended as a member of the Conservative Party. She said: "I can confirm that Chris Edge was yesterday suspended as a member of the Conservative Party in Wimbledon, along with Councillors Evans, Hilton, Rod Scott and Linda Scott.
"The Merton Conservative Group Constitution clearly states that a councillor must be a member of the Conservative Party in order to be a member of our Group. Since Chris Edge is not currently a member of the Conservative Party, I have had no option but to remove the whip from him in accordance with the Group Constitution. He is therefore no longer a member of our Group."

Labour Councillor Peter Walker added after Wednesday's Mayor-Making: "I was astonished and embarrassed at the behaviour last night of several leading Conservative Councillors at the annual Mayor-making ceremony. Normally the event celebrates the work of the retiring mayor and welcomes the appointment of the new Mayor as first citizen of the borough.
"However last night we witnessed a public display of the internecine war fare that has affected local Tories. Four resigned from their own party group and two others refused to vote for the new Mayor of Merton Councillor Krystal Miller. I and most of the Councillors from all parties listened open-mouthed."
The Annual Council meeting also recognised the work completed by Councillor David Williams during his year in office as Mayor, including more than £55,000 raised for charity which has already bought the Wimbledon Guild new transport for their activities.
Councillor Williams was commended for establishing the Mayor of Merton Charitable Trust and the Mayoral pin-badge, as well as helping revive the Merton Civic Awards.
Councillor Williams said: "I thoroughly enjoyed my time as Mayor and was honoured to represent Merton throughout a very exciting year for the borough. I am particularly proud to have raised a large sum of money for charity, principally for the Wimbledon Guild and to have met many great people through my Mayoralty."
Councillor Miller's appointed charities for her tenure are Home Start Merton and the Polka Theatre for Children. The Deputy Mayor for 2013/2014 is Councillor John Sargeant from the Merton Park Independent Residents' Association Group.

What do you think? Why not comment on our forum?

May 17, 2013