Appointment follows leadership election
The Conservative opposition group on Merton Council have named their third leader in two months.
Wimbledon Park Councillor Oonagh Moulton was elected to the post on Monday (May 13). She is pictured with Boris Johnson in Wimbledon today: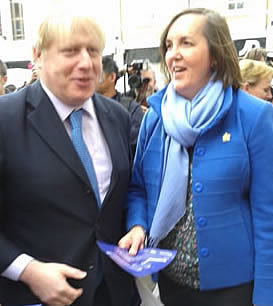 Her appointment came after former leader Councillor Richard Hilton (right), who represents Lower Morden, called a leadership election last week.
He himself replaced Councillor Debbie Shears who only resigned from the post in March.
Councillor Moulton said: "I am honoured to have won the support of my colleagues but I am now focused on the task in hand, getting the best deal for hard pressed residents of Merton.

"I have lived in the borough for more than 20 years with my husband Tom and three children. The Mayoralty gave me great experience of the Borough and the opportunity to meet residents and many organisations across it. I am looking forward to meeting many more of you in the coming weeks and months to come. My priority is making life in Merton better for everyone."

What do you think? Why not comment on our forum?
May 14, 2013