TV star will play the role of Captain Hook
Television star Jerry Springer is the latest big name to be lined up for this year's panto at the New Wimbledon Theatre.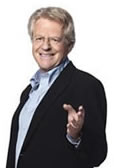 Springer (left) will play the role of Captain Hook at selected performances in January, opposite Louie Spence, who plays cabin boy, Roger.
David Hasselhoff is playing the role at most of the other performances, with the show having already opened to a sold-out audience on Friday (December 10).
Springer, who made his name by hosting the notorious US chat show, "The Jerry Springer Show", said: "Being born in Britain I'm very familiar with the age-old tradition of pantomime and I'm honoured to have been asked by the producers First Family Entertainment to star as Captain Hook and follow in the footsteps of my friend David Hasselhoff.
"David and I have both starred on stage in London as Billy Flynn in Chicago so I'm glad to see I'm still hot on his heels in the casting stakes".
Also joining the cast for three performances in December is the American actor and singer Jeremy Jackson who will also star as Captain Hook on Saturday 18 and Sunday 19 December. Jeremy is best known for his role as Hobie Buchannon in 'Baywatch', a role he played for eight years alongside his on-screen father Mitch, played by David Hasselhoff.
The show runs until January 16, with Louie Spence appearing in all performances. The Captain Hook roles are as follows:
David Hasselhoff show dates: Fri 10 - 17 Dec, Sun 19 Dec (5.30pm only), Tue 21 - Thu 30 Dec, Sun 9 - Wed 12 Jan, Sat 15 - Sun 16 Jan.
Jerry Springer show dates: Fri 31 Dec - Sat 8 Jan, Thu 13 - Fri 14 Jan.
Jeremy Jackson show dates: Sat 18 (2.00 & 7.00pm) - Sun 19 Dec (1.30pm).
December 14, 2010