Rugby result: Hertford 31 v Wimbledon 39
London & SE Premier League, 6 April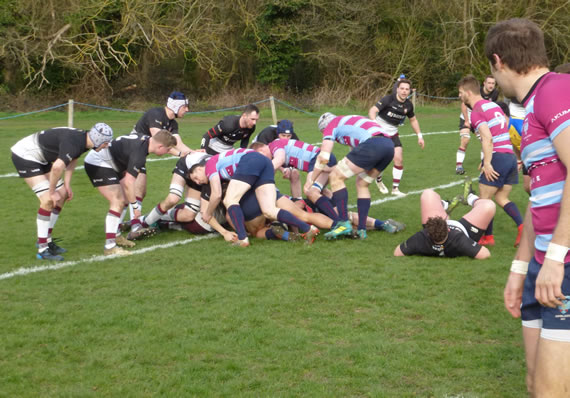 Wimbledon travelled to Hertford needing a victory to help drive them into the possibility of promotion, and after 30 minutes with the score 19 - 0 against them it looked like that ambition might be beyond them after the home team had scored three tries through wings Kyle Lemon, Michael Allen and Sam Walker, two were converted by centre Stuart Smart, all without reply.
The Wimbledon cause was not helped by captain Chris York limping off after just four minutes with a knee injury. He was replaced by flanker Ted Bunn with flanker Kane Alboni moving to no.8. But Hertford had benefitted from a fresh wind on their backs and when on 41 minutes Wimbledon were able at last to mount a meaningful attack a penalty resulted.
The decision was made to kick to the corner and from the following lineout and drive Kane Alboni was held up over the line, but from the scrum and driving maul lock Rob Louw was able to cross the line. Fullback James Moffat took the first of his kicks in the match and it proved to be the start of a productive afternoon for him. The score was quickly followed by Louw's second with Moffat's conversion, so at 19 – 14 in favour of Hertford a long first half ended.
Clearly the half-time team talk had the desired effect as with the wind now behind them Wimbledon tore into the home team. A series of pick and go drives gained the ground for centre Jack Reville to spot the gap and was through near to the posts. The conversion was the easiest so far for Moffat and at 21 – 19 Wimbledon were in the lead for the first time.
Better was to follow when shortly afterwards a driving line-out led to replacement prop James Gillespie driving over with tacklers all over him, again converted by Moffat, 28 -19 and on 54 minutes Wimbledon were starting to breathe easier, but the effort did not, a sweeping move across the pitch by wing Phil Chesters and centre Freddie Hooper put Rob Louw in for his second try wide out but for once Moffat could only find a rebound from the post with his kick.
Now at 33 – 19 Hertford got some rare possession and were able to exert pressure for their prop Geoff Hughes to force his way over and score and centre Stuart Smart repeated Moffat's earlier miss with a kick hitting the posts with his conversion attempt.
Hertford also sensed an opening as scrum half Michael Sargent sprinted away and scored after missed tackles from Wimbledon and this was also converted by Smart. The visitors needed to steady their nerves, a yellow card for back-chat by a Hertford player gave Moffat a simple kick in front of the posts and a final penalty for offside gave Moffat the chance to extend the lead and let the time expire.
For Wimbledon this win followed the disappointments of the last two matches and maintain second place in the table. Other positives were a dominant front row in the scrums with Bertie Haskins and Jesse Muir also contributing with the ball carrying and for the most part slick handling in open field by the backs.
Next Saturday Wimbledon will be away at Tring to complete the regular season with a 3pm kick-off.
April 12, 2019