Rugby result: Dorking 31 v Wimbledon 36
London & SE Premier League, 2 March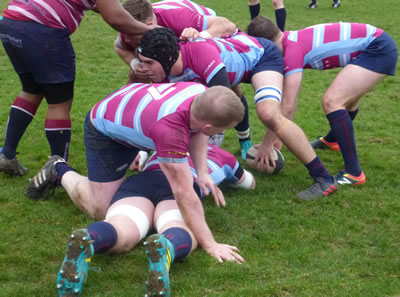 After 30 minutes Dorking were ahead 17-5, courtesy of tries by their scrum half Henry Smith and a lovely solo effort by no.10 Matt Noble, who converted both and used the strong tail wind to add a penalty, against Wimbledon's single try from a signature lineout and driving maul, with flanker Ted Bunn touching down in the corner. It was nothing more than the home team deserved; their pack put Dons' normally dominant scrum under severe pressure, and the backs looked in disarray and porous. Losing every re-start and lacking cocohesion didn't help their cause.
But with eight minutes of the half remaining Wimbledon suddenly clicked into gear. They won possession from a re-start and the backs then showed just how good they can be: fullback Ben Hough cut through Dorking's defence on half way, wing Tom Milner beat two men and centre Toby White finished the move, scoring in the corner.
A minute later, White, Hough and wing Phil Chesters combined beautifully to put centre Freddie Hooper in at the opposite corner. A wicked wind denied no.10 James Moffat both conversions. Moments later Hooper converted the next try from 20m in, after a fine move ending with no.8 Chris York giving a perfectly-timed pass to White who raced in for his second, taking the half time score to 17-22.
Wimbledon started the second half with similar intent and now with the wind twice came close to scoring, but it was Dorking's wing Tom Hunt who crossed the try line first, finishing a flowing move ten minutes into the half. Noble's conversion put them back into a two point lead.
Dons should have regained it ten minutes later when Chesters scored a nice try only for the referee to adjudge the final pass forward. It was not until the final quarter that Dons went ahead again, after a break by replacement Zak Vinnicombe the ball was taken on by Milner, then Hough, who sped over the line to score and Hooper's conversion extended the lead to 24-29.
His next conversion stretched it further to 24-36, after probably the try of the match. Milner took what looked a wrong decision to change the direction of play inside his own half, but which turned to be an inspired one as first he, then Chesters, sliced through a surprised defence before passing to White with just one man to beat…which he did!
But Dorking weren't finished and, aided somewhat by a couple of eccentric refereeing decisions (perhaps in response to constant heckling by a small number of spectators), they created a very good second try for Hunt. Noble's conversion brought up the final score of a hard-fought and most entertaining game.
Wimbledon now go into next week's home game against Brentwood just three points behind league leaders Sutton & Epsom and three ahead of third-placed Westcliff.
On the adjoining pitch at Dorking, a strong Wimbledon 3rd XV overwhelmed the home club's 2nd's 59-14.

March 4, 2019