Shocking photo released showing the extent of Richard Merry's injuries
A Wimbledon man has agreed to the release of a shocking photo showing the extent of his injuries after he was the victim of a late night assault.
65-year-old Richard Merry lay undiscovered near North Ealing tube station until the following afternoon.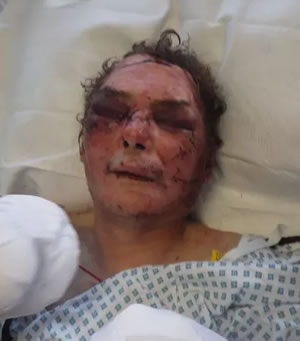 Richard Merry after the attack
The attack took place outside Eden Court in Station Road, Ealing W5 between around 2am and 3am on Tuesday, 13 September. Mr Merry was found lying on an area of grass by workmen at about 12.30pm that day.
Detectives from Ealing CID have released an image of a man they wish to trace in connection with the assault, together with the photo of the victim.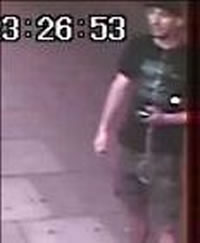 Man wanted in connection with attack
Mr Merry is single and a retired painter and decorator. He sustained brain injuries as well a laceration to his left ear, cuts to his head and face, damage to eye sockets and cracked ribs. More than two months after the attack, he remains in hospital.
CCTV enquiries have shown the victim with an unknown male, appearing to have an argument near to Eden Court.
The police are appealing for information from anyone who can identify the man shown in the image, or anyone who may have been with Mr Merry prior to the incident.
DC Joe Cato said: "Mr Merry was the victim of a vicious assault and then left outside to be found hours later. He has agreed to be named, and for an image of his injuries to be released, to support our appeal for witnesses and information. I would urge anyone who can recognise the man shown in the CCTV still, or has other information that may assist the inquiry, to call police."
Anyone with information that may assist the investigation should call Ealing CID via 101.
To remain anonymous call Crimestoppers on 0800 555 111 or visit www.crimestoppers-uk.org.

November 28, 2016