Mervyn Conn convicted on three counts including two involving underage girl
A country music promoter from Wimbledon in his eighties has been convicted of three counts of rape including two of an underage girl.
82-year-old Mervyn Conn of Convent Way was found guilty of the charges at Kingston Crown Court this Tuesday (18 October).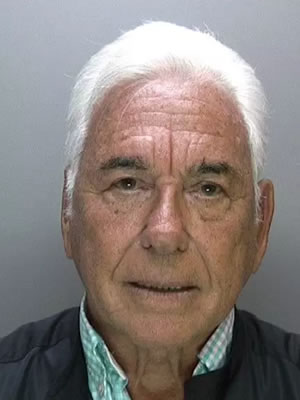 The offences occurred between 1972 and 1985 in the Westminster, Wembley and Wimbledon areas.
An allegation of historical sexual abuse was initially made against him by a woman in her fifties back in March 2014. Following this two other victims came forward and Conn was arrested at Gatwick Airport on Monday, 14 July.
The court had heard video testimony from one of his victims how Conn had asked her to dress as a cowgirl as part of a country music event at the Wembley Arena in the seventies. The woman, who is now in her 50s, was underage at the time of the attack and the jury heard how she had been intimidated by Conn. He raped her in his Charing Cross office whilst she was wearing her school uniform. On a later date he drove her to his gated Wimbledon home in his Rolls Royce and raped her in the bed he shared with his wife.
Detective Constable Ashley Lees led the investigation. She said: "I am very pleased with the outcome of the trial. I'd like to pay tribute to the victims who have had to recount very traumatic details of offences as part of this case and the strength they have shown during the investigation.
"Historical allegations of this nature are treated seriously by the Met and I hope this result encourages others to have the confidence to come forward if they have been victims of historical sexual abuse."
If anyone wishes to come forward with any further information concerning this case please contact 020 8721 4251. To give information anonymously contact Crimestoppers on 0800 555 111 or visit crimestoppers-uk.org.
Detective Inspector Andrew Wadey said: "Conn did his best to thwart investigators but they worked diligently to piece together vital evidence concerning these historical offences. This was a protracted inquiry involving multiple victims of historical sexual abuse. DC Lees was tenacious in linking offences and corroborating evidence through witnesses. The victims were fully supported by PC Helen Innes throughout the investigation and the three week trial."
Conn will be sentenced at a date to be confirmed at Kingston Crown Court.

An NSPCC spokesperson said afterwards: "Justice has finally caught up with Conn thanks to his victims having the courage to speak up.
"Hopefully the fact Conn has been found guilty will allow them the chance to move on and get the support they need to recover from their ordeal.
"This case just goes to show that it is never too late for abuse victims to come forward and report what has happened to them and with the right help and support they can rebuild their lives.
"Any child in need of advice and support can contact Childline 24 hours a day, 365 days a year on 0800 1111 FREE or by visiting www.childline.org.uk".
October 19, 2016