Union claims there is 'a epidemic of violence and crime' on the tube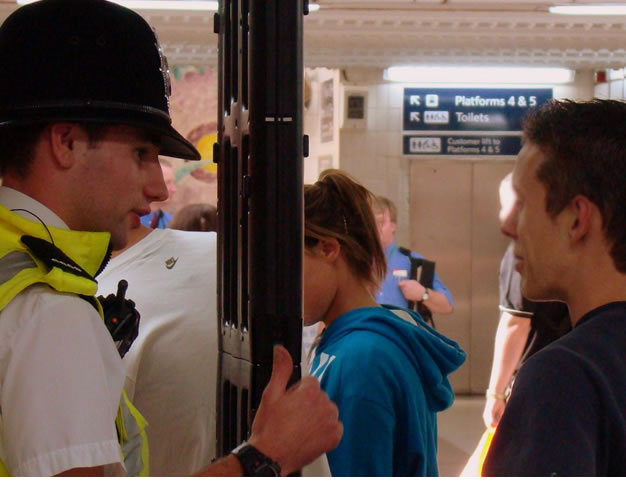 Police officer explains knife arch to member of public. Picture: J.D. Mack
Attacks on Transport for London staff have risen by a quarter in the past three years, new figures show.
There were 628 assaults on transport workers in the capital last year, up from 505 in 2016/17, a mayoral question by City Hall Conservative leader Susan Hall revealed.
And while knife attacks remain rare – just one Transport for London (TfL) staff member has been stabbed in the past three years – the threat is increasing.
There were 35 attacks involving a knife or with a risk of knife violence last year, up by 84 per cent since 2016/17 from just 19 incidents.
This Thursday (23 January) , RMT union – which represents TfL workers – protested outside the transport network's main office.
Demonstrators at Palestra building in Blackfriars Road, Southwark, called for action on workplace violence.
RMT General Secretary Mick Cash said there was "an epidemic of violence and crime" on the Underground in particular.
He said workers would strike if necessary to ensure their safety.
City Hall Conservative transport spokesman Keith Prince said the "heinous" attacks on TfL staff were "deeply concerning".
He said: "This unacceptable increase in violence towards TfL staff has come about directly as a result of Sadiq Khan's misplaced priorities and misguided decisions.
"Had the Mayor not decided to scale back stop and search, there would be fewer knives on the streets our city.
"If he had opted to invest in policing rather than splurging millions on City Hall waste and press officers, there would be hundreds more police officers on our streets keeping Londoners safe."
A spokesperson for Sadiq Khan said: "The shocking increase in the number of assaults on our fantastic transport workers is yet another damning indictment of the impact of Conservative cuts to the police and preventative services in London since 2010.
"The safety of staff is of paramount importance to TfL and the Mayor, who are working closely with the trade unions on new plans to protect staff."
Jessie Matthewson - Local Democracy Reporter

January 26, 2020